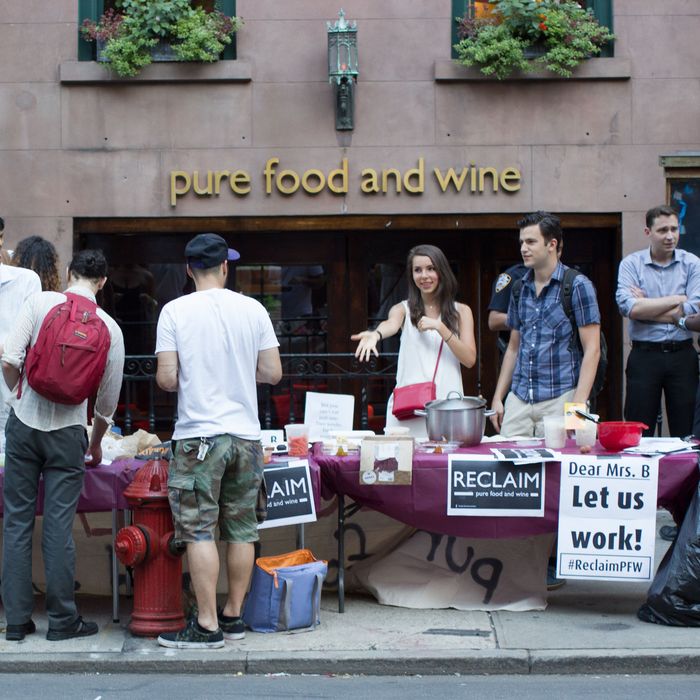 Former employees and their supporters gather over a vegan potluck.
Photo: Chris Crowley
Last night, disgruntled former employees of Pure Food & Wine organized a vegan potluck outside the embattled restaurant's storefront to advocate for their cause. The event followed news that the now-organized staff are filing a lawsuit against owner Sarma Melngailis, who, according to the staff, went AWOL once again and owes them two weeks of back wages. If the situation sounds familiar, that's because this isn't the first time the restaurant has shuttered this year. It happened first in January, allegedly after weeks of no pay or word from Melngailis, who an employee told Grub then hadn't been seen "for months."
This time around, according to former manager Erica Graff, checks bounced for five weeks prior to the July 3 closing and Melngailis responded more aggressively to employees, threatening to fire anyone who didn't show up for work. Yet despite all this, and the fact that many have apparently found work elsewhere, a group of employees still aren't willing to let go — in fact, the potluck was organized with the express purpose of convincing the landlord to let the employees "reclaim" the restaurant. Grub dropped by the potluck last night and spoke with several former employees, including juice-bar staffer Caetano Laprebendre, about what's motivating the staff and why they're not willing to let go. Here's what Laprebendre said about the situation.

With everything that has happened this year, the fact that this is the second time Samra has disappeared and the restaurant has closed, why are you still trying to get it back?
Everyone has their own motivation for participating. Before moving here last year from Mexico, I had heard of Pure, and I thought, Oh, what a nice place, I hope I can save up to afford to eat there once. Because it's pretty expensive. I came here after a few jobs, also in which things happened and I was treated terribly, but I was the only one. So this is the first time I feel I don't have to go it alone. I'm vegan myself; I can't really work in a steakhouse — it would be too annoying for me. It seems that within the vegan restaurant community, they know people can't work anywhere else. They want to work at a place the aligns with their life choices.
Working here is the best situation and atmosphere. I wasn't really micro-managed; they gave us lots of freedom; we were always able to suggest new dishes and drinks. You really feel like a part of the whole thing — the fact that we were working at a place where everybody loved working with each other, and that we were being paid well. I was a juice-bar worker; I wasn't planning on being a juice-bar worker for the rest of my life. Nor do the waiters plan on being servers for their whole life.
But if this isn't something you see yourself doing with your life, why fight to get the job back?
We felt we were working for something that was making the world a better place, and we also enjoyed working with everybody we were doing it with. We think it's worth fighting for, because — well, this is just my story, but a few days after Pure closed, I walked down my street and there's this Chinese restaurant, and they're protesting. I asked them, the same thing happened, but some workers there don't have papers, some can barely speak English. I thought, We can't just let this keep happening. We have something that's worth it, let's fight for it, and set a precedent for other restaurants [staff] to do the same if they're under sketchy ownership.
So you want to set an example?
Yes, exactly. I came here and I stayed here despite what happened the first time because I enjoyed it. The treatment was way better; other restaurants, I was the only one who said let's do something, this isn't right. Same situation for some others, they said this was the only place they felt everyone would have their back. It's truly a collective.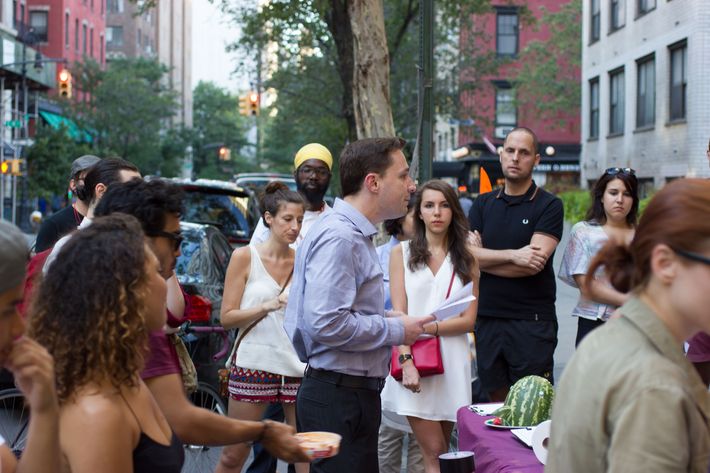 So what made you feel like this group could actually get win this fight?
In January, when we did this, as soon as we got some coverage, we were on NY1 for a little segment, our owner immediately said, "Okay, let's settle this lawsuit." We saw the power we had. At least a third of the people that were there before came back, because we thought we made it happen: It seems like it's working again, it's new, it's fixed. Turns out: It's not, and within a couple months, it's died again. But now we have a couple of great leaders; we have a great lawyer in Ben [Dictor], and we all really care about each other. If it were any other job, I could go find another. We're in a unique situation where we could open up with new ownership or no ownership, just between investors and the already dedicated, local staff who want to work with each other.
Still, this isn't the most pragmatic thing: You're fighting for something that technically doesn't belong to you.
Well, that's the thing. That's why people love working here. We all had a stake in it and were responsible for it, because the owner was really — she was sometimes around but rarely involved in the actual running of the restaurant. She was more into attracting investors. We just felt that we were doing our own thing and could do it without her in a way.
Then the fact that it was automated in a way that she didn't have to work, so we just thought, Why should we work for someone else when we know we can do it all on our own? And, as I say, another juice-bar job I can get; I can get another, better server job, but I just feel that for all of our co-workers who are here without papers or feel that they shouldn't or can't speak out because they're afraid, for those who have gone from one restaurant to another being chased by all kinds of events like this, I fortunately have the time to spend every Thursday here protesting and trying to make something happen.
How long will you keep fighting?
I'm not sure about that. I'm leaving for a long trip in September and won't be back until next year, for sure. But while I'm here, I'll try to support it. I know the two or three main organizers; they're into making this happen, and the harder and faster we go at it, the quicker we get it resolved and the less of chance there is of people dropping out.
Are you trying to reopen as Pure?
No. We would change the name. We don't want to have any kind of association with — we don't want to copy her brand. It is, as far as I see it, already tainted enough. Two times closing down — we should open a new restaurant that is raw, vegan, and organic. That's what I stand for, so if not, I'm out. So basically the same values and some staff, same work atmosphere, just increase the standards in the workplace. Like being paid when we're promised to be paid, which is a very low bar to set. [Laughs.] If we got paid the same and the only thing different was that we were sure we would actually get paid and it would be a stable environment, that would be perfect. But we can even go for more.
So, yeah, our goal with the potluck and protest is to convince the landlord that the only weak link was the owner and everyone else was operating it on our own. We weren't paid for two weeks and we were still running it and no one really heard what was happening; we were all discussing it. No one had even noticed that the owner had escaped. All of that had happened. We can do it on our own.
But what's the likelihood of convincing the landlord?
If I were her, I know the main organizers are very motivated. They feel they can make this happen. If we didn't have hope, we wouldn't do this. But we do, and enjoy being with each other, but we do believe it'll happen. How fast? We don't know. Some people, they have family members who all worked here, three to four jobs in the family; those that can will stay as long as they can: standing on the corner, handing out flyers. We want to do it as quickly as possible, so we don't lose momentum.
I have to ask you one more time, why not move on?
The fact that there is a thriving vegan, raw restaurant here in New York City makes me happy. I think that it's the future of social progress, animal and total human rights, that cuisine — not only is it sustainable and ecologically sound, just health wise, environment, ethics, I just like the fact that it exists. But in the meantime, it's about how much this place changed people's minds with regards to raw food and veganism, or just everything it stands for — organic food as well. We just liked the impact we were having.