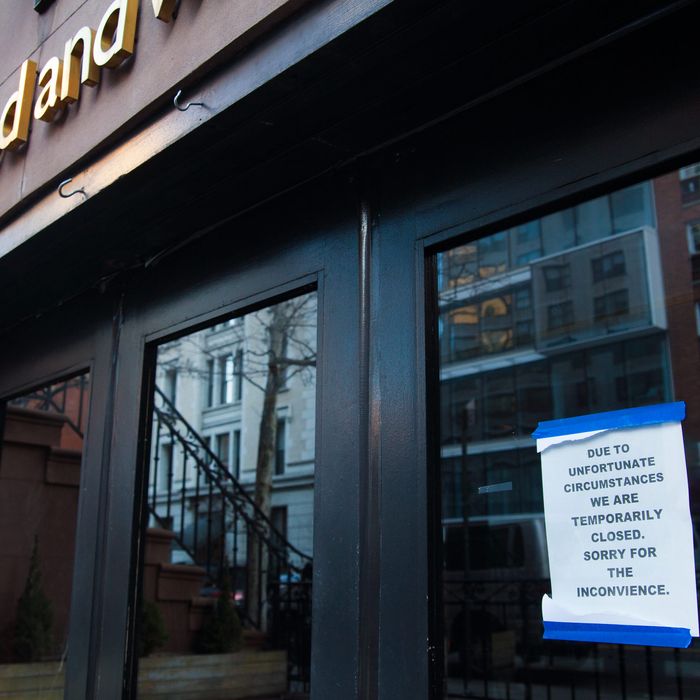 Manhattan's Pure Food and Wine is closed for the second time this year.
Photo: Konstantin Sergeyev
Shady behavior by restaurant owners isn't exactly rare, but now employees of one popular Manhattan eatery are doing something about it, looking to wrest control of their restaurant from an owner they claim has vanished (along with their wages). It's just the latest chapter in the saga of Gramercy's Pure Food and Wine, an 11-year-old vegan restaurant that recently shuttered for the second time this year, apparently once again over a labor dispute,
Back in January, Grub spoke with an employee who walked out of the restaurant over unpaid wages. Waitress Gabrielle Badawy told Grub that purveyors had stopped delivering produce and the restaurant effectively shut down. All the while, owner Sarma Melngaili, who Badawy said hadn't communicated about the situation or "been around for months," went missing. At that time, the employees were looking for an amicable solution, with Badawy explaining, "Our goal is not to take this to court. We just want to get paid." But she didn't mince words when assessing the situation, saying the full return of the restaurant was "a pipe dream" — which, as it turns out, may have been correct.
Three months later, on April 10, the restaurant reappeared, with much of the old staff back on the floor, and Melngailis herself spoke with Grub about the situation. The owner explained that she had gone radio silent because she was doing everything she could to fix the situation, bringing on outside investors who are, in the words of Melngali, "all people that really care about the restaurant, and people that have all been customers and want to see this place grow."
On July 3, the restaurant once again shuttered after Melngailis apparently refused to pay her staff yet again — then disappeared once more. As one employee tells Gothamist, "She's truly fallen off the map."
Now it seems the amicable solution that Badway and her co-workers once sought is no longer on the table: Employees have formed an independent union, rallied in support of getting back wages paid, are trying to reopen the restaurant with labor-friendly investors, and are looking to file both a federal labor complaint and class-action lawsuit against Melngailis, whom they'd like to see locked up.
Benjamin Dictor, a labor attorney from Eisner & Associates, is now representing the employees, who are exploring all legal options available to them. While many of the employees have reportedly found other jobs, they also hope they can be a part of some kind of reopened Pure Food and Wine.
Whether that happens, Melngailis — who is still reportedly missing — has other issues to deal with, too. This, from Gothamist's report:
This go-round, workers are saying they won't go back on the job unless she is out of the picture, and one of her recent investors, Asparagus Trading Corporation, is suing for $280,000 it claims she drained from business accounts for "improper purposes."

According to the company's lawsuit, filed in state court on July 7th, when executives realized Melngailis had emptied the accounts and was behind on bills, it paid the $31,000 June rent under the understanding that she would sell the business and its assets to investors. Then, according to the lawsuit, she refused to sell, and before disappearing, diverted credit card payments into her personal coffers.
Even in the annals of bad-owner behavior, the allegations against Melngailis are extreme. If she resurfaces, it seems unlikely that Pure Food and Wine will be able to reopen, and if it does, Melngailis probably won't be involved.