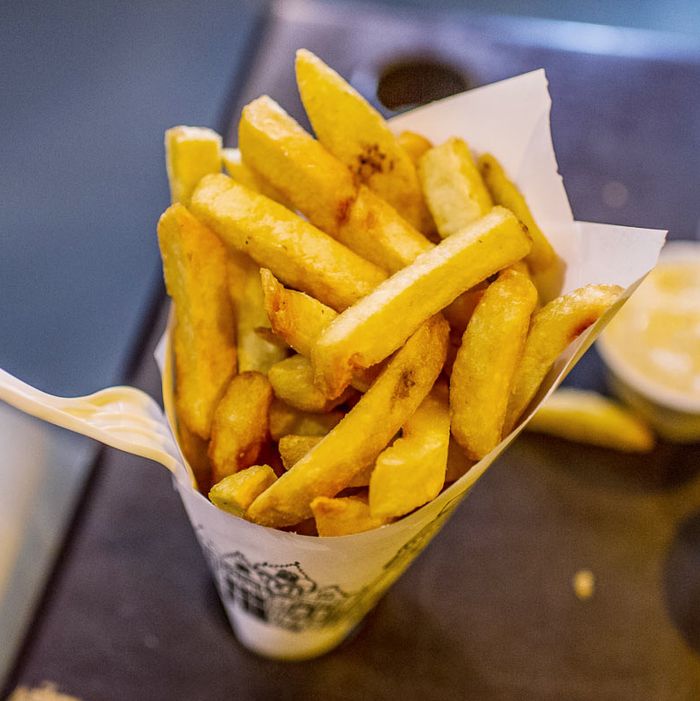 Don't you want a beer with your fries?
Photo: Jazz Guy/Flickr
Devotees rejoiced when Pommes Frites found a new location after its longtime home tragically burned down because of the East Village gas explosion, but now its path forward isn't looking quite so smooth. The community board for the area housing the shop's new location at 128 Macdougal Street in Greenwich Village, set to open later this year, has unanimously advised the State Liquor Authority to deny granting co-owners Omer Shorshi and Suzanne Levinson's beer and wine license.
The opposition stems from the fact that the board wants Shorshi and Levinson to stop serving beer at midnight or 1 a.m., because of a perceived saturation of bars and late-night revelers, but the owners have refused to budge on their desire to serve until 4 a.m. The problem is that Shorshi says that late-night income will be crucial to keeping the new store afloat, which has "like, triple" the rent of the original (beer-free) location, and that agreeing to these conditions, which the board says they demand of all fast-casual spots on the street, will essentially doom the new store.
That didn't seem to bother the community board, with one member, Elaine Young, reportedly responding, "that's not our problem." Nothing is certain yet regarding Pommes Frites's license, and, as always, the final decision is in the hands of the SLA, which may very well grant the license anyway. But if it does get denied and Shorshi is right about the need for booze, it could be a swift, sad fate for the late-night institution.
[DNAinfo]