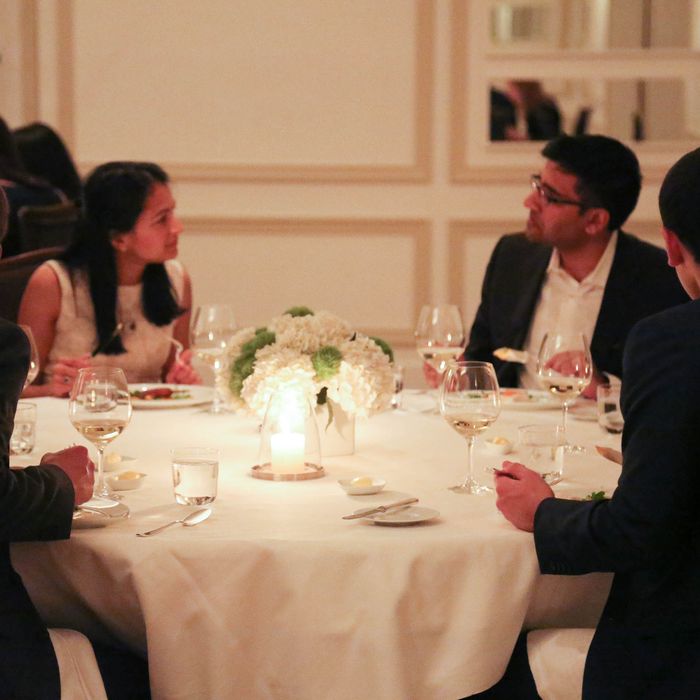 Dinner at Per Se.
Photo: Rob Kim/Getty Images
Tip disputes are depressingly common in the restaurant world — one reason why many restaurants are ditching tip-culture entirely and simply opting to pay their employees higher wages — and now a major service-fee fiasco has come to light at Per Se, Thomas Keller's Manhattan restaurant, which is easily one of the most high-end dining rooms in the entire country.
According to this legal agreement with the New York State Attorney General, brought to light by Times labor reporter Noam Scheiber, the restaurant will pony up half a million dollars after an investigation uncovered practices that, the AG's office says, withheld tips from service employees.
The investigation's findings are extremely specific: A Labor Department wage order that went into effect on January 1, 2011 mandated that "any charge in addition to charges for food, beverage, lodging, and other specific materials or services, including but not limited to any charge for 'service' or 'food service,' is a charge purported to be a gratuity." In short: Anything listed on any menu as a service charge has to go directly to service employees and can't be used for any other purpose.
The AG's investigation, however, discovered that between January 2011 and September 2012, Per Se billed a 20 percent "service charge" to its private-dining customers, but "used the fees from this service charge towards the operational revenue of the restaurant," which means money from the service fee paid for typical restaurant costs like food, rent, and maintenance (along with employee wages and benefits).
Even though Per Se, on its own, changed the language of the private-dining contract to call the 20 percent fee an "operational charge," and the document notes that Per Se's wait staff is paid between $16.60 and $28 an hour — far above the minimum wage — the restaurant was still in violation of the work order for 21 months.
And Per Se has agreed to pay up: The restaurant's team will pay $500,000 to current and former employees entitled to the funds.
Grub reached out to Thomas Keller's restaurant group, and a rep sent along the following statement, which says the error was a result of carelessness:
In an unintentional oversight, Per Se, unaware of a new state regulation, did not update the description of the operational charge in its private dining event agreement during a 21-month period in 2011 and 2012.  Nearly three years ago, in September 2012, Per Se modified this contract language at its own initiative and has been in compliance since that time. We have reached an agreement with the New York State Attorney General's office to resolve this issue.