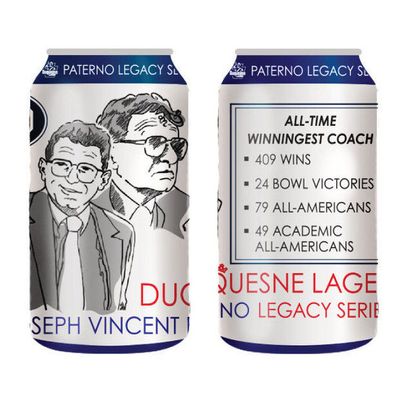 The beer comes out next month.
Photo: Courtesy of Duquesne Brewing Company
Maybe beer really can fix anything — even late Penn State coach Joe Paterno's controversial legacy. Pittsburgh-based Duquesne Beer will release Paterno Legacy Series lager next month, and so far, it's a huge hit. Duquesne owner Mark Dudash expected the initial run of 500 barrels to last him through late September, but he says presales alone now top 2,800 barrels — and they haven't even offered it yet to people in Philadelphia or Pittsburgh.
Duquesne worked for a full year with Paterno's wife Sue and son Jay — who agreed to the collab as long as part of the beer's proceeds went to charity — before releasing an image of the beer's label, an homage in Nittany Lion colors that PennLive.com notes "puts the coach's accomplishments literally in the palms of beer drinkers' hands." If there were any concern over beer cans printed with Paterno's face, it's safe to say the beer's many would-be buyers don't share it. Dudash, a Notre Dame fan, says:
I've never seen anything like this, and I've been in the beer industry long time … It just doesn't happen this easy. Something special is in the making. I just said to Jay, 'There's a guardian angel up in heaven somewhere.' What's going on right now, it just doesn't happen. This thing is crazy.