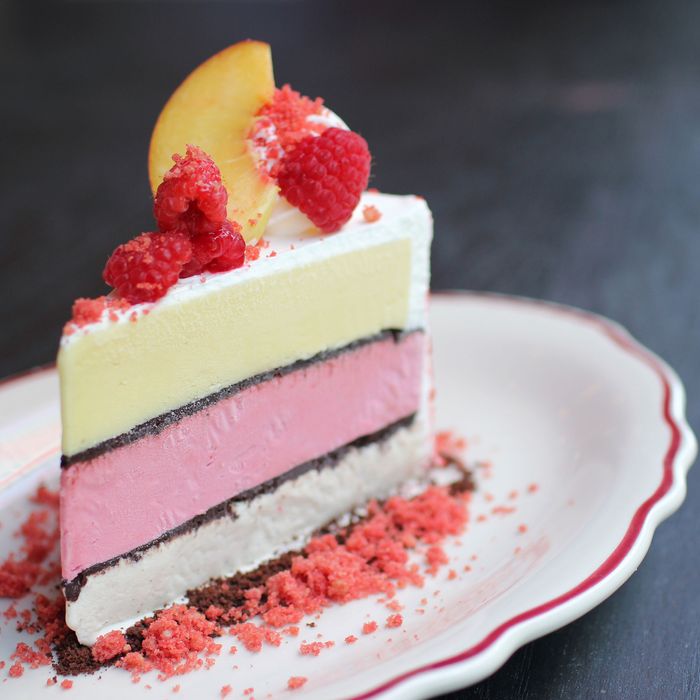 This is exactly what a day like this calls for.
Photo: Melissa Hom
These are the dog days. Summer — real summer — is here in New York. The concrete and brick radiate hateful levels of heat. Those who can afford something like a beach house have wisely abandoned this urban hellscape until at least Labor Day. Any air conditioner is a temporary refuge until the world forces you back out into the unrelenting, 92 degree day, air so thick you can practically swim in it. It is demoralizing — enough to break anyone. This city needs relief, something that can provide some sort of joy in an otherwise inhospitable world.
What this weather calls for is ice-cream cake.
And, what luck, Parm — the ever-growing empire of casual Italian spots from the Major Food Group — now sells a dozen different varieties. The main inspiration behind all the new flavors appears to be: "If a dessert exists, and it sounds good, let's turn it into an ice-cream cake." And so, in addition to the justifiably famous Classic variety, everyone can now enjoy ice-cream cakes in flavors like Strawberry Shortcake, Peach Melba, and Piña Colada. Parm has, of course, dabbled in the past with special one-offs, but all 12 of these are now in regular rotation, available for you to purchase as you see fit (order the day before by 3 p.m., pick the cake up at the Parm of your choice the next day — each $58 cake can serve around a dozen people).
To aid in your selection, here are shots of every single flavor now available: