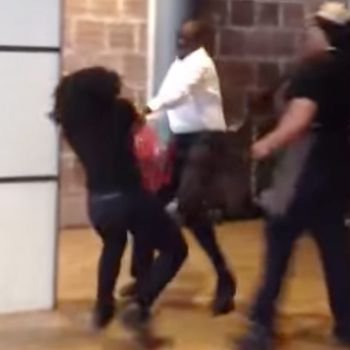 After some sort of workplace disagreement yesterday, a Panera manager punched one of his female employees in her ear at a Manhattan location. An observer filmed the incident, clearly the end result of a larger argument, and originally sent Gawker a YouTube link to the footage. That individual said the woman was quitting her job mid-shift, and things escalated to where she was "throwing some bags of chips on the ground." She was kicked out, but came back into the restaurant, and the manager "immediately" got physical, allegedly pushing her down some stairs. She came back swinging, which is where the video starts:
"You might wanna say she hit him first," the witness told Gawker, "but really he had FULL CONTROL over her the entire time." Someone told the Post that the woman provoked him, "causing him to throw a 'defensive swing.'" The witness also claimed she was bleeding "a little" and had cuts on her hands, but ultimately walked away.
A Panera rep responded by stressing the company has a "zero tolerance policy for violence," and adding that yesterday was both that manager's and the employee's last.
[Midgarrr/YouTube via Gawker]