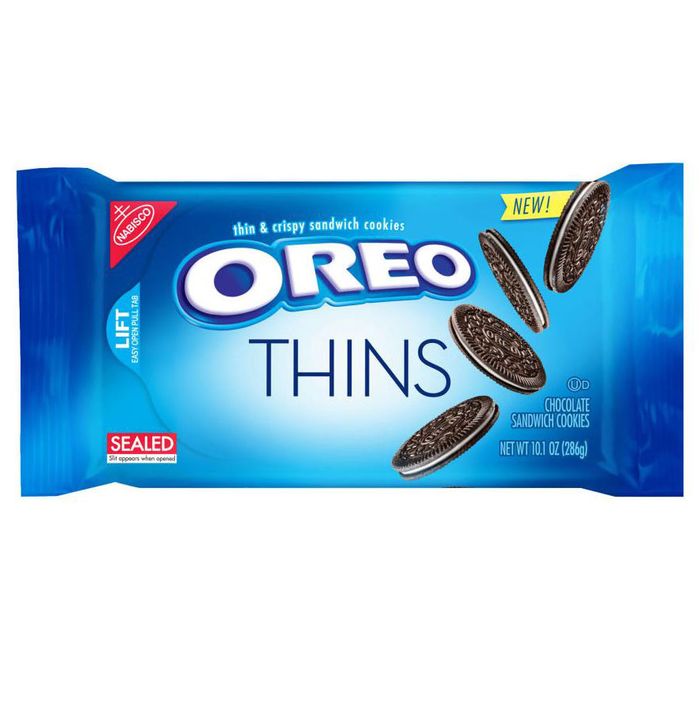 Starting next week, Oreos will be available in a thin version that looks like it got run over by a car. Fittingly called Oreo Thins, they're being billed as "sophisticated," "thin and crispy" cookies for grown-ups.
The cookies are the same size as normal Oreos, but only about half as thick (7.5 millimeters instead of 12.5 millimeters — which makes the cookies sound like an iPhone upgrade) and four little thin Oreos contain 20 fewer calories than three full-size Oreos. They also come in Golden and Mint flavors, wading directly onto Thin Mints turf.
Here's the big thing that you should know, as pointed out by the AP: Oreo "says they weren't designed to be twisted open or dunked." And that right there is the reason why Grub Street will be sticking to original Oreos, thank you very much. But why, you might ask, would the company make a non-twistable, only vaguely dunkable Oreo? Because these are "sophisticated" and designed to be eaten by adults, who Oreo has decided apparently don't like fun. One Oreo exec is quoted as saying, "If people want to do that, it's clearly up to them," but that sounds more like dunk-shaming to us.
According to the marketing campaign, Oreo Thins are to be the crêpes to the original's pancakes, but this branding effort has mostly failed on Twitter, where "Diet Oreos" and "Skinny Oreos" have already caught on, because everyone immediately realizes there's no other reason to eat a half-Oreo Oreo. Live a little and just eat a whole cookie.
[AP]