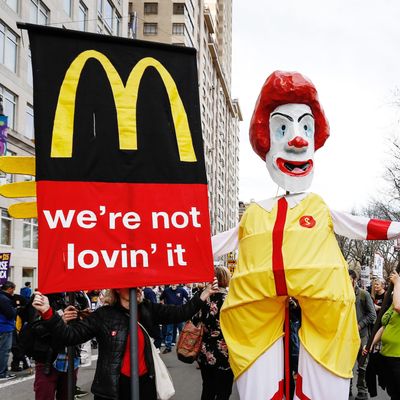 The sweet taste of victory.
Photo: Anadolu Agency/Getty Images
The Wall Street Journal reports that, on Wednesday, as predicted, the panel convened by Governor Cuomo to study fast-food wages will formally recommend paying workers statewide $15 an hour — a substantial raise that's nearly double the current rate of $8.75. The only step left is an okay from Acting Labor Commissioner Mario Musolino (which he's expected to give), and then Cuomo can move forward (which there's every indication he will) regardless of how the Legislature feels about it. So it looks likely that a big raise will come to New York's fast-food workers.
Of course the restaurant industry is adamantly opposed, saying $15 an hour isn't affordable, and the opposition is fast turning into fear. "We're all scared, I have to admit," a co-owner of four Burger Kings stresses to The Wall Street Journal today. "We in the New York market are very, very concerned that a lot of us may not survive over the next year." Cuomo argues they can afford it, and should, because it costs the state — and therefore taxpayers — $700 million every year to subsidize these workers who get paid the industry's non-livable minimum wage.
With their loss looking all but inevitable, restaurant owners are already moving on to concerns over implementation, things like how New York will define "fast food." Robert Bookman, an attorney for the NYC Hospitality Alliance, says they're hearing "horrible rumors" that the raise will apply to businesses with as few as ten locations, and that's a major disincentive to do what they're supposed to do as business owners and grow. "If you have nine, why would you add another one?" he says.
Update: It's official.
[WSJ]