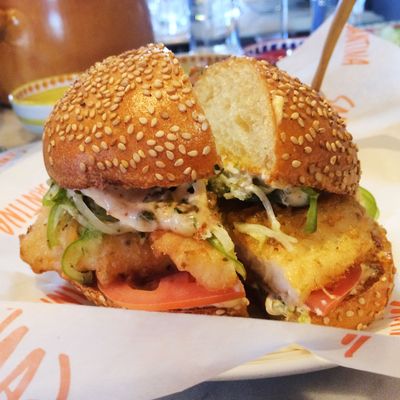 Santina's fried-fish sandwich is a modern classic.
Photo: Rob Patronite
2015 may go down as the year of the fried-chicken sandwich, but it's also seen the introduction of many top-notch fish sandwiches on menus across the city — ones made with crazy-delicious slaw, fried skate, smoked bluefish, and more. And, with this heat wave in full effect, that makes it an excellent time to chow down on a fish sandwich (or three) and pretend you're on the beach, before cooling down with a cold beer or maybe even a slice of ice-cream cake. Here are 13 seafood sandwiches — with some new crab options thrown in for good measure — to try right now:
Smoked Whitefish on English Muffin Where: Estela Price: $16 Ignacio Mattos's latest argument that his Lower East Side restaurant serves the best brunch in town: this beauty of a breakfast sandwich, the most refreshing thing to happen to whitefish salad in a while. Mattos takes Russ & Daughters whitefish, flakes and mixes it with crème fraîche, aïoli, and parsley, then serves it with raw white onion on a housemade, buttered-up, crisp, crunchy English muffin.
Oh-Boy Where: Seamore's Price: $16 At meatball maven Michael Chernow's white-hot seafood spot, where they're all about the local fish, they're serving not one but three fish sandwiches. The most compelling of the bunch is the Oh-Boy: fried skate, pickled peppers, and special sauce on Sullivan Street Bakery bread.
The Fish Hook Where: Red Hook Lobster Pound Price: $16 Let the people who think fish and cheese shouldn't mingle carry on with their silly delusions: Grub knows better. Case in point, this aquatic spin on the Lobster Pound's dry-aged beef burger, introduced following a recent re-vamp. Seriously flaky cod is beer-battered and deep-fried, then topped with a slice of American, slaw, and tartar sauce.
Fish Sandwich Where: Santina Price: $18 Sure, it's lunch-and-brunch-time only, but you can have it your way — sea bass, that is, grilled or deep-fried in a rice-flour batter — served with sliced tomato, lots of olive-caper tartar sauce, and a Contramar-inspired slaw of chilies, onions, and citrus that sent the Underground Gourmet into "Best of New York" fits.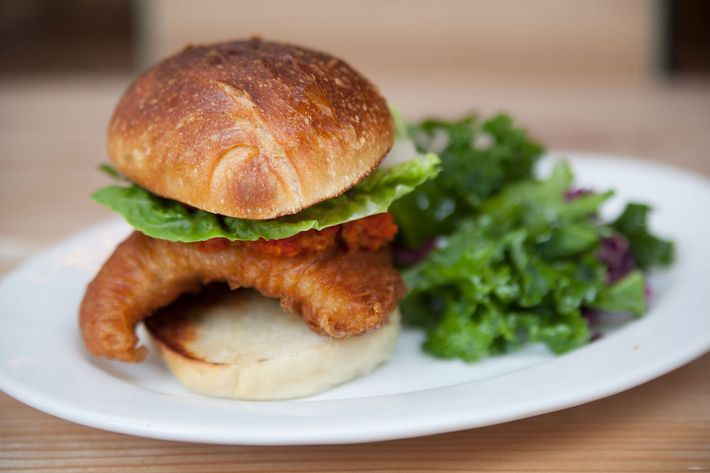 Samke Harra Where: Souk and Sandwich Price: $8.50 The 2015 Cheap Eats honoree makes a mean eggplant sandwich, that's for sure, but owner Tarik Fallous is no one trick pony. Based on the Tripoli dish of the same name, this sandwich sees marinated fish, typically cod, cooked in a hot sauce of sweet and hot peppers, garlic, cilantro, and tahini with some spices. The fish is then shredded, mixed with tart peppers, and wrapped and grilled in thin Lebanese flatbread.
Smoked Bluefish Sandwich Where: Harry & Ida's Price: $13 At the sandwich annex to his R&D; fermentation lab, Ducks Eatery chef Will Horowitz smokes the oily, surprisingly of-the-moment bluefish, bought from whoever has it freshest, for this sandwich himself. Built like a lobster roll, the sandwich is served on a charred brioche bun that's split on top and then stuffed with smoked fish, pickled celery, spring onions, watercress, and a light sassafras dressing.
Fried Skate BLT Where: Jeffrey's Grocery Price: $17 Seamore's isn't serving the only skate sandwich in town. During the lunch hour at Gabe Stulman's neighborhood restaurant, they're serving a fishy twist on the all-American classic with lemon-caper aïoli and bib lettuce on Pullman toast.
Crab & Avocado Roll Where: Park Ave Summer Price: $26 The kitschy, seasonally transforming restaurant is currently serving a crab, avocado, and raspberry hot sauce roll with jalapeño crisps for snacking.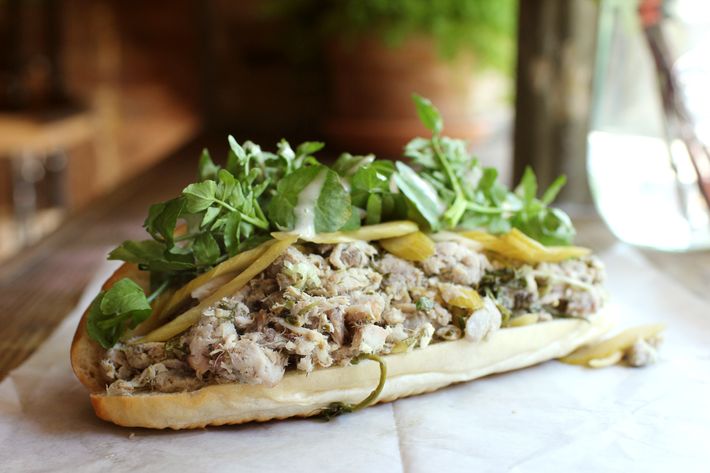 Spicy Crab Bun Where: The Cecil Price: $19 At chef JJ Johnson's globetrotting brasserie, they mix spicy soy sauce with the traditional tartar ingredients, swap out the Western roll for a steamed bun, and serve it with briny crab.
Grilled Fish Sandwich Where: Miss Lily's 7A Price: $15 An easy way to amp up a regular old grilled fish? Swap out that boring old filet for some escovitch, the escabeche-like preparation that traditionally sees whole fish marinated in a spicy vinegar-based pickling liquid and then fried (not so here). For good measure, add a little jerk mayo to the mix and you've got yourself a real sandwich.
Sardine Flatbread Where: Dante Price: $15 At the recently rebooted restaurant, an apertivo bar to the century-old original's espresso, chef Nori Sugie marinates sardines in apple cider vinegar, lays them on a base of romesco, and tops them with red onion, dried kalamata olives, and provolone. It's served open-faced on a house sourdough, so, okay, technically it's a tartine, but still: sardines.
Crispy Shark + Bake Where: LoLo's Seafood Shack Price: $11 At this casual love letter to Caribbean seafood shacks, Douglas Rodriguez-trained chef-owner Raymond Mohan is slathering crispy fried dogfish in salsa verde and peppa sauce, and serving it on homemade bread.
King Crab Thermidor Sandwich Where: The Clocktower Price: $24 At Stephen Starr's restaurant in the New York Edition hotel, Michelin-starred chef Jason Atherton is marrying that classic French dish of a bygone era — thermidor — to Americans' love of seafood rolls. The result: a King Crab and brioche therimodor sandwich, served with seasonal greens.