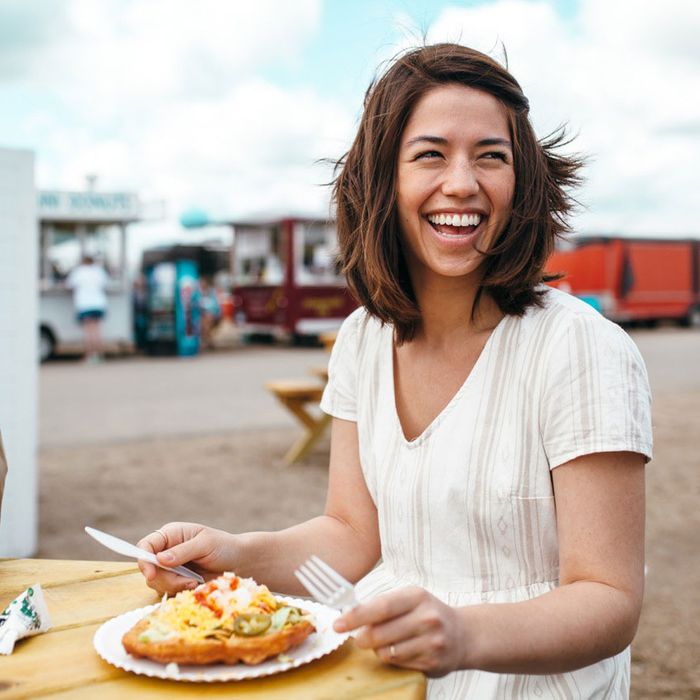 "Deep-fried pizza and corn dogs are the ones that got away."
Photo: Nick Hagen
It's been quite a year for Molly Yeh: The My Name Is Yeh blogger — who moved from Brooklyn to a farm in North Dakota — won Saveur's Blog of the Year award, taught Sam Sifton how to make lefse, and announced plans for her first-ever cookbook. She's won over many, many fans for the sweet, friendly way she documents her midwestern life, and shares truly original recipes for nostalgic dishes like a peanut-butter-and-grape galette, Cheddar doughnuts, and a cookie salad. This week, she licked batter bowls of cake, attended a "BYO meat party," and stuffed pulled pork and barbecue sauce into calzones.
Friday, July 17
My favorite breakfast these days is this: a medium-size blob of plain full-fat Greek yogurt, swirled all over the bottom of a very large bowl, drizzled with olive oil, sprinkled with kosher salt, and topped with a mountain of Israeli salad. That is what I am having this morning, only my husband, Nick, got to the salad yesterday and picked out all of the tomatoes and cucumbers, so I'm really just having yogurt and raw onions. It's okay; onion breath is my norm.
Throughout the morning, I lick the batter bowls of a pistachio cake and an olive-oil cake. The pistachio-cake batter is buttery and perfect and makes the risk of contracting salmonella 100 percent worth it. I am not so sure that this is true for the olive-oil-cake batter, but the finished product is good, especially when topped with peaches and cream.
Before I can ruin my lunch with cake, Nick [Hagen — Yeh's husband] comes in and makes his specialty: eggs and bacon. I chop up some tomatoes and toss them with basil from my half-dead basil plant, and we eat while watching the Tour de France.
In the afternoon, I work on a seeduction challah recipe for my book (because it's really seedy). In anticipation of eating more slices than I should, I forgo the stand mixer method and knead it by hand, which is my favorite arm workout. When the loaf comes out of the oven, I immediately saw off a thick slice and apply ferocious amounts of butter and smoked Maldon salt. Eating this is a highlight of my week.
Later on, one of my chickens, who is inside with me today because she is injured, is really crying, so I cut up half a cucumber from our garden and split with her.
Friday night is always pizza night, which we often spend at the town pizza parlor, Rhombus Guys, but tonight I am making a homemade version of one of their pizzas, the Happy Pig. It is topped with mozzarella, pulled pork, pepperoncini, onions, peppers, pineapple — and, wait for it — barbecue sauce. It took me years to warm up to this midwestern practice of putting barbecue sauce on pizza, but on the Happy Pig, it works and I love it. Instead of making a regular pizza, I fold the dough into calzones, which we sneak into our little movie theater for Trainwreck.
Saturday, July 18
I am startled out of a dream by my half-naked husband who is creeping into our bedroom, singing an improvised version of the Miss America theme song, and using a cookie sheet to carry two mugs of black coffee, a plate of bacon, and a cut-up cucumber that still has dirt on it. It is, all at once, confusing, embarrassing, and illegal amounts of adorable. At my request, he feeds me a slice of bacon before I even sit up and we giggle uncontrollably.
That day, we head to the Pennington County Fair, in Thief River Falls, Minnesota, where we split a frybread taco from the Oof-da Tacos, deep-fried lefse that's been dusted with cinnamon sugar, and sweet-potato fries. Deep-fried pizza and corn dogs are the ones that got away, but overall, I'd say this was a pretty successful trip to the fair. On the way home, we stop at a meat market and pick up some teriyaki jerky. It's really tasty, but after having just met a bunch of cute baby cows at the fair, it is a little weird to eat.
I spend the early evening preparing for one of our farmer friend's BYO meat party. I whip up some zhoug aïoli and quick sesame pickles, and then, taking a cue from the turkey burgers from Jerusalem, I dump a bunch of cumin, paprika, and chopped onion into ground beef and portion out little patties for burgers. If I was made for one thing in this world, it was to pack up cute little picnic meals, so in addition to the individually wrapped burgers, small jar of aïoli, and pickles, I pack up sliced tomato, onion, challah, a tiny tin of Jacobsen salt, and a little bottle of Tabasco. On the way out, we yank a few leaves of lettuce from the garden.
At the party, I field some weird looks about my BYO aïoli and challah, but get distracted by two types of potato salad and some killer fried potato wedges. I am fascinated by the potato salad because I've heard about upper Midwest potato salad before — it's got hard-boiled eggs in it — but this is my first time trying it. It's a little bit difficult to navigate the texture of hard-boiled eggs and potatoes, but I think I can get with this. Later I find out that the wedges were made using just-harvested potatoes from the field next door. This makes them taste even better and, when dipped in my aïoli and washed down with a Fargo Brewing Company beer, they win the spot for ending bite.
After the party, I go to the town wine bar with my friend Emily. We order a bottle of the cheapest sparkling wine on the menu and when it comes it is the most fantastic shade of razzle-dazzle blue that I feel as if our insides are about to celebrate their super sweet 16. Our fears are confirmed by the waiter when he tells us that, yes, this does have artificial food coloring in it, but luckily Emily and I are on the same page about all of this and we YOLO drink like teenagers.
To counteract the immaturity of our wine selection, we order a flight of the most expensive cheeses, which I'm excited about because most of them can't be found in our local grocery stores. A majority of them are blue, and there's also a great taleggio.
I stumble in at around one, at which point I throw a bunch of brown sugar, brisket, and other shit in the crockpot and go to bed.
Sunday, July 18
The Ladies of Grand Forks Brunch Club is meeting at my house today and I am serving challah liège waffles, the brisket that I patched together last night, Bloody Mary Popsicles, and a plate of pickles, horseradish Cheddar, and walnuts. Before guests arrive, I worry that the house doesn't smell good enough, so I throw some butter and chopped onion on the stove to cook down slowly and emit that magical smell.
The ladies bring pistachio cake, marzipan scones, hummus, and vegetables, and while we eat I try to gauge if the brisket is any good or not, but they're all being so darn nice, so I finally get up in Nick's face and he tells me that, yes, it's way too sweet. He's 100 percent correct and I'm daunted at the funding required to test a brisket recipe 12 more times, but it'll be worth it, right? You want to eat breakfast brisket, right?
Throughout the day, I tell myself, Molly, you will have a salad and a green juice for dinner so that you can counteract all of the cow that you ate this weekend.
And then we have brisket tacos.
Monday, July 19
I begin the day with a perfectly symmetrical egg in a basket that has a perfectly cooked egg white and a perfectly runny yolk. I top it with a garlic and onion yogurt sauce that has a wee bit of sumac in it. It's so reminiscent of French onion dip that I'm suddenly transported back to the corner of every junior-high birthday party, where I would sit, hoarding all of the chips and dip.
Throughout my day, I have calculated bites of various sweets that I'm photographing for a project, all in the name of food styling. One third of a mint Oreo, a perfectly vertical chunk of a gingerbread cupcake, the inner bit of a mini olive-oil cake. My choreographed bites have gotten really good, I think.
When I finally force myself to eat grown-up food, I see that Nick has just vacated the scene of a bacon cooking crime, and I use his leftover bacon fat to sauté some vegetables. I eat them with brown-rice noodles and whole lot of soy sauce and sriracha.
That night we play sand volleyball and I spend the entire time thinking up what I might eat to counteract all of the calories lost from jumping around and hitting a ball. When we lose though, nothing seems more appealing than just going home, showering, and eating vegetable soup in front of Harry Potter.
Tuesday, July 20
I spend the morning underneath a pile of emails that I am determined to conquer and I only emerge for a salted yogurt toast, a buttered toast, and then a large bite of olive-oil cake.
In the afternoon, I am hit with an enormous amount of stress when I see that many of my tomatoes are about to turn red. If I am to develop two fried-green-tomato recipes (one for the blog, one for the book), I have got to get on it.
I lose count of how many different tomato recipes I test and I get to the point where I start taking bites, chewing them up to get a sense of the texture and flavor, and then spitting them out because I am way too full to eat anything else, but I must keep testing. Ew, it's gross. I feel gross.
For dinner, we walk across the street to my parents-in-law's house for a Hotdish and ice-cream sandwiches. I drink Chardonnay out of a straw.