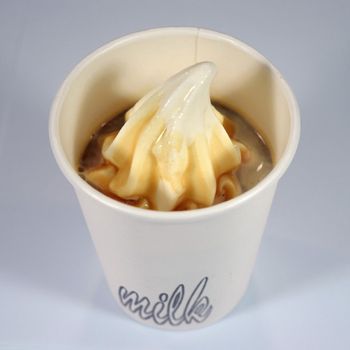 Beat the heat.
Photo: Courtesy of Milk Bar
Christina Tosi is always shaking things up at Milk Bar (see: the hot-dog-filled Ballpark Bomb), but her latest invention is so simple and smart that Grub's surprised it didn't exist already. The Cereal Milk Affogato combines Milk Bar's signature soft-serve with a double shot of strong Stumptown espresso. It's available as of today at all Milk Bar locations, with the exception of midtown, and it costs $5.
There are a few other menu additions — mostly in the form of milkshakes. The Birthday Cake Shake blends Cereal Milk soft-serve with three of the famed truffles, and the Chocolate Malt Cake Shake includes soft-serve, hot fudge, and three chocolate-malt truffles. This couldn't be better timing, with the unbearable heat wave and all.