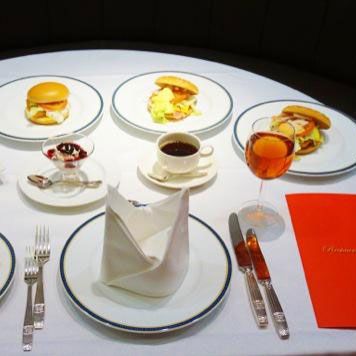 "Restaurant M" sounds like a murder-mystery dinner involving a hungry Alfred Hitchcock and Fritz Lang, but it's actually the name of a one-day pop-up on July 27 involving a five-course McDonald's menu and multiple forks. The chain is hoping the white-tablecloth meal, limited to 20 guests at a time, gets people talking about its new Fresh Mac sandwiches instead of how nobody in Japan wants to eat at a McDonald's anymore.
The first course is a vichyssoise (a.k.a chilled potato-leek soup) made from French fries and a "salad" that for some reason is mostly made of strangely colored gelatin. Next, diners receive burger-patty wedges on toothpicks with dipping sauces, followed by a whole Fresh Mac burger semi-deconstructed. There's tea in wine glasses, and dessert is, obligatorily, an Oreo McFlurry dressed up with berries and served in a crystal bowl.
It's brilliant, really; the people should be begging for normal burgers again in no time.
[Kotaku]