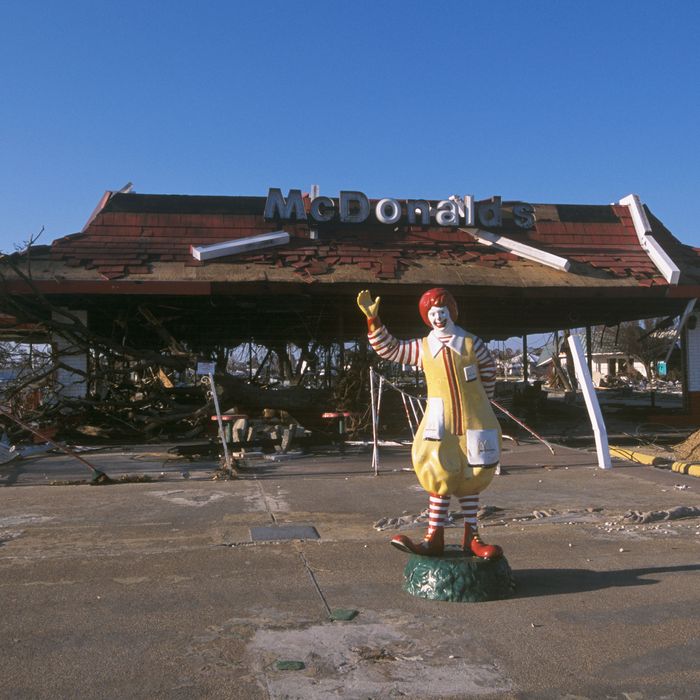 The chain says it's seeing "signs of momentum."
Photo: Alison Wright/Corbis
Sales under the Golden Arches fell again, for the seventh consecutive quarter, this time by 2 percent at U.S. stores. That means a 13 percent decline in profits over the past three months — something Robert Gibbs might not even be able to turn around. To put this in perspective, sales at Taco Bell this quarter are up 6 percent.
The earnings report doesn't delve into "specific examples," but here are a few: that WTF turnaround plan back in May, a suburban Hamburglar, kale, unauthorized use of the word artisan, and an exciting "new shape" for Quarter Pounder patties.
Meanwhile, this latest quarter starts off with this news: After two years of work, McDonald's finally has a smartphone app coming out in the fall, but it's not for actually ordering food. It's an app for … "mobile coupons."
It's time for Ronald, Grimace, and the Fry Kids to stage an intervention in Oak Brook: shred everything in the C-suite and tell executives to start reenvisioning McDonald's as the world's largest 24-hour breakfast chain.
[AP]