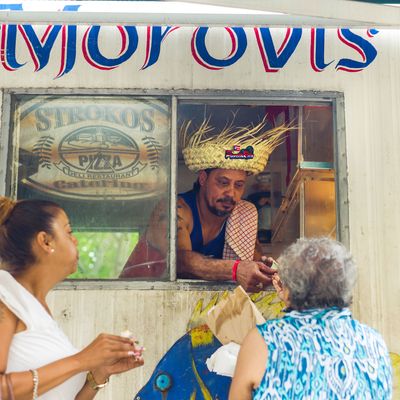 Angel "Piraña" Jimenez with customers.
Photo: Freddy Mejia
Angel "Piraña" Jimenez's Saturdays usually start around 4 a.m., when he wakes up, turns on his ovens, and starts cleaning out the truck that houses Lechonera La Piraña, in the Mott Haven area of the Bronx. He's up because he has to prep the pork — the ribs, shoulder, back, typically everything but the head — that he bought the day before, seasoned with a homemade adobo seco, and hung overnight to dry.
The first batch comes out at noon, fatty and fragrant with garlic, sporting the kind of crackly, burnished skin that's both crisp and chewy, requiring you to tear at it with your teeth. This is very good pork: People come every weekend from places like Yonkers, Throggs Neck, New Jersey, or even Allentown, Pennsylvania. A daughter and mother there on a recent weekend talked about how they'd been looking for it for a month, because no one else nearby serves food that "tastes Puerto Rican." In the crowd, you'll hear people say things like "I haven't ate here in two weeks," as if that's an unheard of amount of time to go without eating roast pork. When you finally try it, a heaping portion served with an equally enormous serving of arroz con gandules (rice and pigeon peas) for $8, you immediately want more, and you also realize that La Piraña might just be one of the city's most important food trucks, despite the fact that Jimenez has likely never so much as heard of a Korean taco.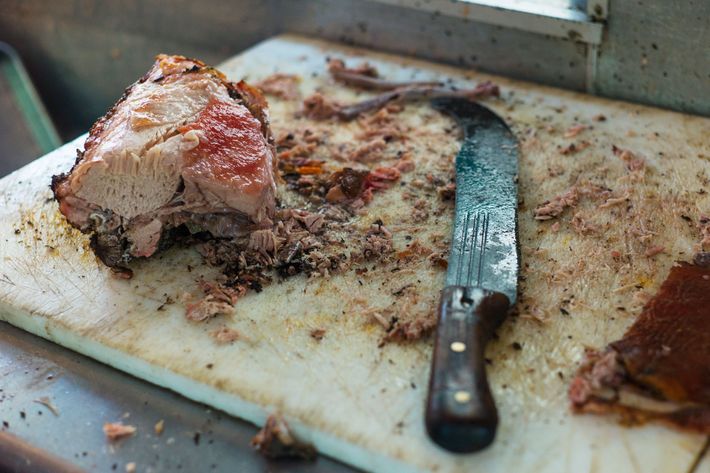 The pork comes out all day, fresh batches emerging at noon, 1, 1:30, 2:30, and 4 p.m. on a recent Saturday, until Jimenez eventually runs out around 6. On Sundays through the summer, he leaves the truck and sells the pork at the soon-to-reopen Vendy Plaza in Harlem (for which he has to cook overnight on Saturdays, sleeping just a few hours, after working all day at the truck). He sells out there, too. Even though the truck's customers line up all afternoon for Jimenez's food — the pork, pastelillos filled with briny crab and juicy shrimp, octopus salad, and yam fritters, all of which he makes fresh, himself, with no other employees or helpers — he's managed to fly mostly under the radar as far as many of the city's most devoted food explorers are concerned. That's extra surprising because Jimenez has been cooking for customers for more than a decade (although it probably doesn't help that he didn't have any web presence at all until a friend set up a Facebook page last month.)
A native of Aguadilla, a beach town in Puerto Rico, Jimenez came to the mainland in 1984. He's spent most of the last 30 years in the same Bronx neighborhood, Mott Haven, where he says he "practically grew up." As a child, Jimenez learned many things from his parents, including, of course, the many uses of sofrito, the essential seasoning of Puerto Rican food. His father, a fisherman who hunted the Caribbean for lobster, crab, "big tuna", octopus, and more, ran a lechonera in Aguadilla. For the roadside operation, which faced the ocean on one side and houses on the other, they built everything themselves piece by piece. This, he says, was the inspiration for his own place, which started as a small wooden cart and is now housed in a larger trailer, which Jimenez says he found "over by the ocean" before building the kitchen himself.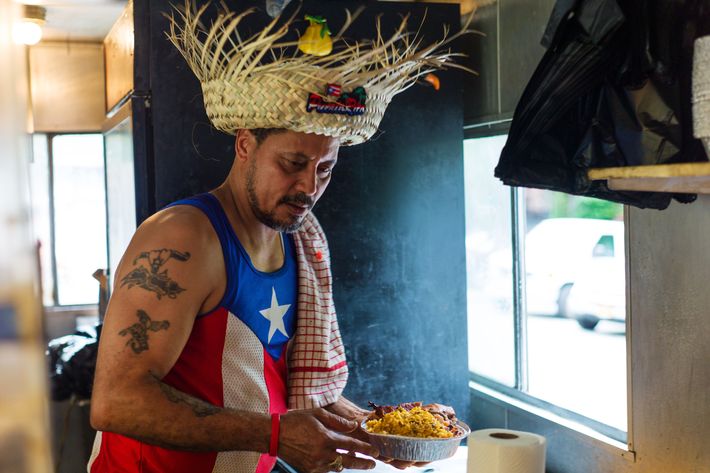 It wasn't that long ago, though, that working in food was an ambition that Jimenez had deferred. Now running his lechonera is just one of three jobs that Jimenez holds down. He's also the super for the building on the corner of 152nd and Wales, where his truck is located, and five days a week he works with boilers and air-conditioning units.
On September 11, 2001, Jimenez was working in the World Trade Center, doing wiring for telephones and other equipment for the previous seven years. He left work a little after seven in the morning and by the time he was heading back to his house in the Bronx, the news was on every TV and radio he passed. "A lot of my friends died over there," he says. "They had a restaurant up there, and a lot of my friends were working in the kitchen that day. I would go there all the time to eat. Some of them I knew from the streets, too, hanging out over here and living in the Bronx." He says the sudden loss, the shock of 9/11, was what made him decide to go all-in on La Piraña. "I knew how to cook before," he says. "I was waiting for the opportunity, and I did it."
He still worked at ground zero, helping to clean up the asbestos-blanketed disaster zone until the following May. After that, the telecom company he worked for bought him out, and the government gave him free medical insurance and twice-yearly routine checkups for helping in the recovery. He says he was also advised on how to get the license and permits he needed to operate the truck, but the rest was up to him.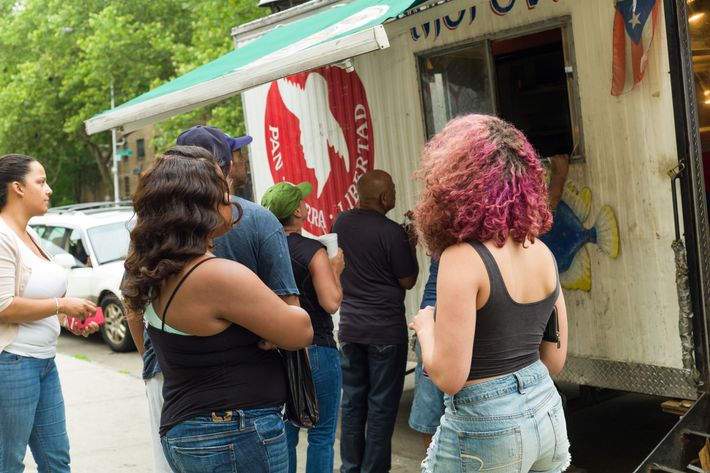 Now, a dozen years later, his lechón, the roast pork, is a neighborhood staple, something that his local, mostly blue-collar customers couldn't imagine being without. People stop by, eat, joke around with Jimenez, all while he turns out fresh batches of alcapurrias and pastelillos. La Piraña is less of a food truck and more like a weekly block party that Jimenez hosts for the whole neighborhood. If he has any food leftover at the end of the day, he simply hands it out to whoever needs it. They know to come by. He does the same during the day, and lets needy people do odd jobs for him in exchange for money and food. "That's my dream," Jimenez says, later telling me that he's gotten so busy that he feels like he needs to open a restaurant next year to handle it. "To have my own restaurant and, you know, serve food for the people."