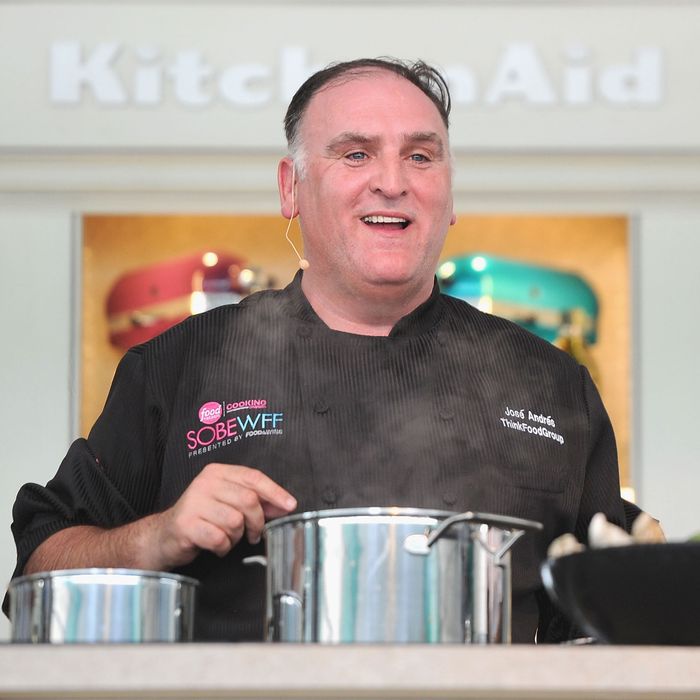 Good call, chef.
Photo: Larry Marano/Getty Images
Following Donald Trump's very racist comments about Mexican immigrants, pressure started mounting to convince famed chef José Andrés to back out of his deal to open a flagship restaurant in the presidential candidate's forthcoming D.C. hotel. Now, it looks like that Change.org petition worked, as Andrés's ThinkFoodGroup has joined the many, many other high-profile companies and brands in their exodus from Camp Donald. The chef, an immigrant himself (from Spain), has officially ditched his plans to work with Trump over his recent anti-immigration comments.
Andrés wrote of his decision in a statement provided to the Washington Post:
"Donald Trump's recent statements disparaging immigrants make it impossible for my company and I to move forward with opening a successful Spanish restaurant in Trump International's upcoming hotel in Washington, D.C. More than half of my team is Hispanic, as are many of our guests. And, as a proud Spanish immigrant and recently naturalized American citizen myself, I believe that every human being deserves respect, regardless of immigration status."
Of course, this is the Trump family we're talking about here, so you know this isn't the end of it. Donald Trump, Jr., emailed the Post to say that the lease agreement specified a ten-year term, and that he intends to keep Andrés on the hook for that rent, writing, in part:
In the event Mr. Andrés defaults in the performance of his obligations, we will not hesitate to take legal action to recover all unpaid rent for the entire 10 year term together with all attorneys' fees and additional damages we may sustain. We will also enforce the exclusivity provisions preventing Mr. Andrés from opening a competing restaurant anywhere in the D.C area. Mr. Andrés' obligations under the lease are clear and unambiguous.
So, this probably isn't the end of the story, but it's probably safe to say that, even as this plays out, public sympathy will be with Andrés.
[WP]