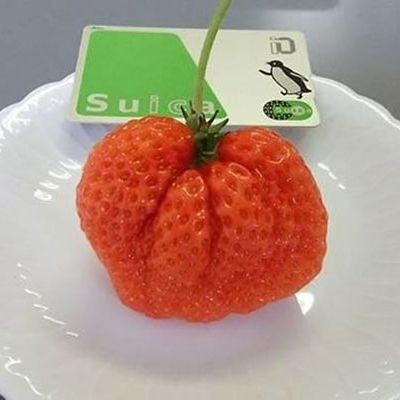 Time to break out your favorite shortcake recipe.
Photo: Courtesy of Ichigo Company
Look: an impeccable new berry just released this week that a lucky few can nibble at, or admire in a museum exhibit case — whatever it is you do with fruit this perfect. Could this happen anywhere but Japan?
The $8 specimen, pictured here next to a Japanese transit card for comparison, is selectively bred, grown under LED lighting, and at 1.5 ounces (or roughly the size of an egg), is big but not too big. It's the careful work of Ichigo Co. — ichigo means "strawberry" in Japanese, so, not surprisingly, this is all they make. The company's singular product isn't going to be available in fruit parlors, where the average Japanese luxury-fruit buyer goes to pick up square watermelons. Instead, eager customers have to buy them exclusively online and commit to packs of six for about $48.
Still, it's a bargain compared to the ¥1 million ($8,200) someone shelled out last week for a bag of just 26 grapes.
[WSJ]