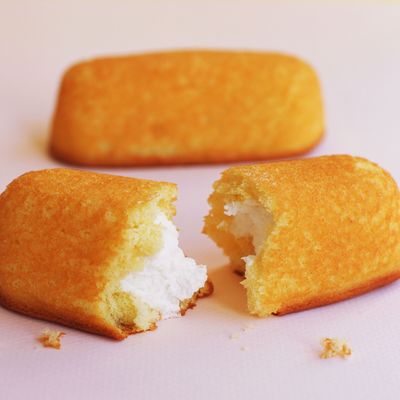 Like this, but with even more engineering.
Photo: Evan Sklar/Getty Images
Something is afoot at Hostess: A rumor says the company may pull the lever on something described only as "frozen fried Twinkies." An insider tells the Post that the company thinks there is money to be made by expanding its product line, and one option under serious consideration is this in-house, state-fair-inspired makeover.
That's not all: Hostess might also attack the bread aisle by rolling out a line of bagels, tortillas, and English muffins with an "extended shelf life." Per the Post, Hostess's R&D; team has also discovered a way to make products even more indestructible: They've made snacks more acidic, which sounds like stomach problems in waiting but has successfully upped their shelf life for the second time. Snacks now reportedly won't expire for 65 days, as opposed to 45. Way back in 2013, it was a mere 25 days before the cakes supposedly would go stale — a surprising claim, since everyone already knows Twinkies, and almost certainly the "frozen fried" kind, last forever.
[NYP]