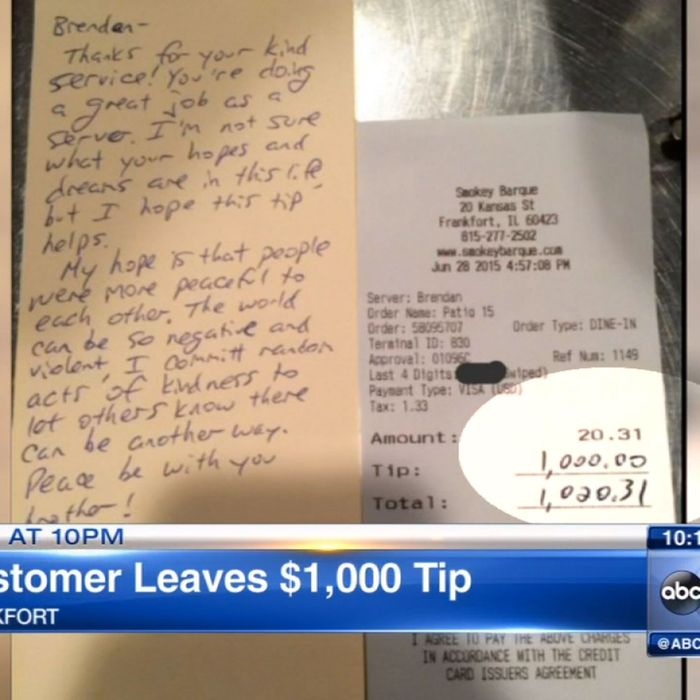 A very serious random act of kindness.
It's usually a bad sign when a chatty customer decides to tackle a weighty topic like "life" when talking to a server, but 19-year-old Illinois waiter Brendan Motill definitely chatted up the right $20 table on a recent slow day at Smokey Barque BBQ, because the move made him $1,000 richer. In fact, it seems this particular customer just wanted to make sure Motill was on the right track. Along with a check and a $1,000 tip (on a bill that was roughly $20), Motill found this note:
Brendan —

Thanks for your kind service! You're doing a great job as a server. I'm not sure what your hopes and dreams are in this life, but I hope this tip helps.

My hope is that people were more peaceful to each other. The world can be so negative and violent. I commit random acts of kindness to let others know there can be another way. Peace be with you brother!
The customer wrote "Tips for Jesus," that roving troupe of anonymous over-tippers, on the signature line, which probably helps explain why the guy vanished before Motill could thank him. Either way, the thousand bucks will come in handy. Motill's hope is to be an accountant, so now he has a large sum he can calculate taxes on.
[ABC 7]