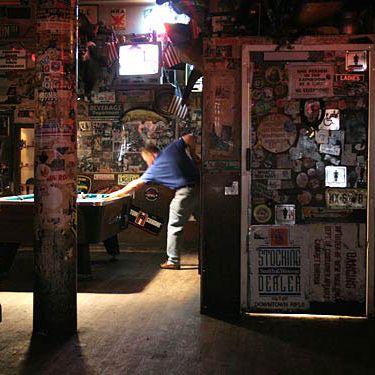 Coming soon: Probably a fashion boutique or something.
Photo: Shanna Ravindra
The new Meatpacking District of sparkling glass towers and high-end fashion boutiques has finally snuffed out the last vestige of its former, less savory, far more interesting self. Twenty-three years after opening, Hogs & Heifers — the motorcycle bar that served as the inspiration for Coyote Ugly — will call it quits on August 23 because of — you guessed it — an untenable rent hike. Owner Michelle Dell tells the Daily news that her new landlord, Thor Equities, wanted to raise her $14,000 a month rent an extraordinary 428.5 percent to $60,000. (The rent, when Dell opened the bar in 1992, was just $3,000 per month.)
All those bras that patrons had sacrificed at the bar's altar weren't going to pay for a hike like that, and Dell estimates she would have to up the price of PBR from $3 to $17 in order to make it work. Go pour one out before the bar officially closes.