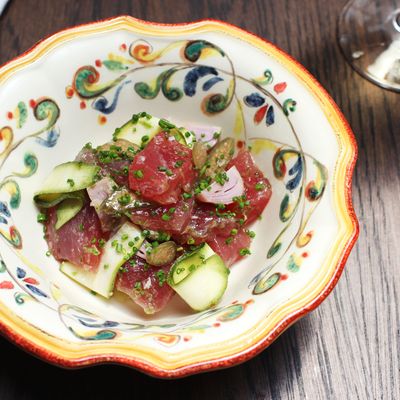 Weather like this calls for some tuna crudo (like this version, served at Sessanta).
Photo: Melissa Hom
It is still hot in New York, just as it has been for the last several days — and as this heat wave creeps along, it's beginning to take its toll. Even with today's possible thunderstorm, it's expected to stay that way, with 90 degree weather continuing through the weekend. There's not much you can do, aside from shower every chance you get, drink as much water as humanly possible, and, of course, eat things that are fresh and light (and preferably chilled). Fortunately, New York restaurants understand this, and are offering some wonderful ceviches, chilled soups, and frozen desserts. Here are 14 plates that will offer at least some momentary relief:
Citrus-Cured Salmon, Honeydew, Pickled Fennel, Mint
Where: Virginia's
Price: $12
Chef Christian Ramos, a Per Se alum, cures Atlantic Scottish salmon in citrus and salt for six hours, and then pairs it with honeydew-melon soup, mint, cured cucumbers, and pickled fennel.
Ceviche
Where: Seamore's
Price: $13
On a recent visit, the ceviche was made with porgy, cucumber, and tobasco, but the type of fish varies based on the Dock to Dish delivery.
Fennel-Cured Arctic Char Toast
Where: Studio Cafe at the Whitney
Price: $14
Untitled is a lovely for a sit-down meal, but chef Michael Anthony is also overseeing the more casual upstairs café. The menu is dominated by toasts, like this one with arctic char, potatoes, capers, and crème fraîche.
Peaches With Lavender Granite
Where: Rebelle
Price: $9
Pastry chef Jessica Yang — who just got named to Zagat's 30 Under 30 list — recently debuted a dessert of poached peaches, lavender granite, and tapioca.
Salada de Pipino e Navalhas
Where: Lupulo
Price: $14
New York Times critic Pete Wells is a fan of this refreshing salad, with charred cucumbers and razor clams.
Tuna Crudo
Where: Sessanta
Price: $16
This pretty new Soho restaurant is a crowd-pleaser, and that's in part because of solid, simple dishes like tuna crudo, with zucchini, lampascioni, caperberries, and lime.
Branzino in Cartoccio
Where: Alta Linea
Price: $26
Sitting outside during a heat wave is rough, but if you're one of those New Yorkers who will do anything to dine alfresco, Alta Linea (a seasonal outdoor restaurant) is just the place. This entree comes wrapped with olives, fregola, fennel, and garlic.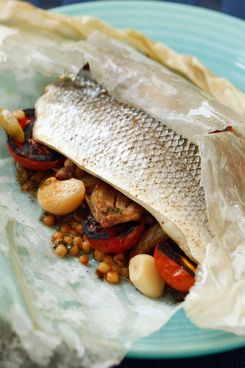 Shrimp Ceviche
Where: Cómodo
Price: $15
New to the menu at Cómodo is an ultralight shrimp ceviche, served over sliced avocado in a spicy orange-aji Amarillo "leche de tigre" (a traditional Peruvian preparation) with chopped mint and toasted cashews.
Snap Peas, Calabrian Chili, Cashews, Ricotta Salata
Where: The Four Horsemen
Price: $15
There's much to like at James Murphy's wine bar — spicy beef jerky, warm bread, a solid roast chicken — but this vegetarian dish is certainly the most refreshing and just as satisfying as the meatier options.
Pickled Bluefish, Dill, Crunchy Vegetables
Where: Houseman
Price: $10
This new Tribeca restaurant, helmed by a Prune vet, seems to be an easy option for summer, with snack-y dishes like fried fava beans and a little-gem salad.
Scallop Crudo, Kale, Cucumber, Oro Blanco
Where: Wildair
Price: $16
The structure of the Contra team's new restaurant makes it perfect for summer dining: order a bottle of natural wine, perhaps a few small plates, and then a few more — no pressure.
Cold Buckwheat Noodles in Icy Brisket Broth
Where: Hanjan
Price: $18
During lunch, chef Hooni Kim's kitchen turns out this Korean specialty, with pickled cucumbers, cabbage, and egg. Kim says that in South Korea, people are as crazy for this dish as people in Japan (and the U.S.) are for ramen.
Chilled Corn Soup
Where: Minton's
Price: $11
Chilled soups are springing up on plenty of menus, but it's hard to get behind a cold bowl of pureed asparagus. Corn soup, on the other hand, is wonderful — especially when prepared by chef J.J. Johnson.
Push-Pops
Where Lafayette
Price: à la carte, $5; pack of six, $32
Pastry chef Jennifer Yee's artisanal push-pops have exploded, and she now offers four flavors: the original Tout-ti Frutti (with sherbet and crushed macarons), Cannele, and dairy-free Mango-Lime and Blackberry Verbena. You can even purchase a cooler, which comes with 15 pops and costs $195.