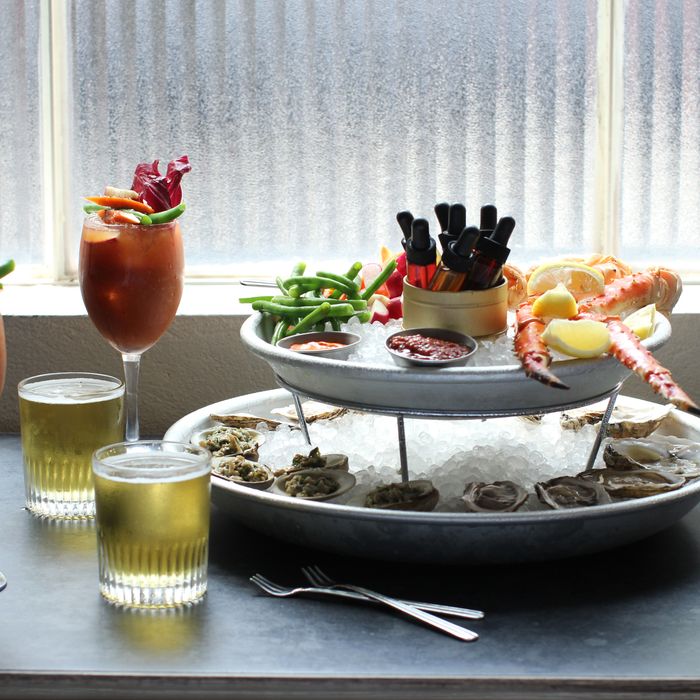 This counts as eating a salad.
Photo: Melissa Hom
As Grub Street has noted before, the Bloody Mary is a much-maligned drink, having transformed over the years from a gentle, tasteful day-starter into — all too often — some kind of gonzo monstrosity, decked out with increasingly garish garnishes. It's rare the Bloody Mary innovation that actually improves upon the original, and, usually, it's better to just leave well enough alone and maybe add a Bloody Caesar to the menu if you wanna go nuts.
But when Boerum Hill's Grand Army — the neighborhood bar from Noah Bernamoff, Julian Brizzi, food photograher Daniel Krieger, barman Damon Boelte, and chef Jon Bignelli — begins brunch service this weekend, the menu will feature a "Bloody Mary Platter," the kind of thing, based on the name, you might otherwise expect to see somewhere like a Vegas buffet. This platter, though, is refined, a raw-bar in brunch form. For $70, you'll get two of Boelte's Bloody Marys ("classic spice blend" and your choice of vodka, gin, or tequila), sidecars of pilsener, some fresh vegetables and toast, and raw oysters, clams, shrimp cocktail, and crab legs.
The component parts are nothing new; instead, the elegance, in Grub's opinion, comes from the idea of packaging everything together. There's a sense of ceremony here that even ardent brunch-haters should appreciate. Would-be Bloody Mary innovators of the world, take note. There are no whole-chicken garnishes. No slices of pizza draped over the glasses. Instead, there are some civilized Bloodies, a nice beer back, and a bunch of fresh ingredients that will ensure you start your weekends feeling like a high roller.
Grand Army's brunch runs from noon to 4 p.m. Saturdays and Sundays and includes a few more menu additions from both Boelte and Bignelli.