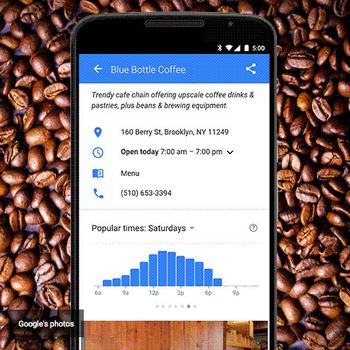 If it's midday Saturday, Google reminds you you'll wait for approximately forever.
Google's putting its reams of crowdsourced data to a nifty new use: to give people a heads-up about when to expect the happy-hour rush at a particular dive bar or all the tables to be full at that must-have ramen joint. The feature is rolling out as part of the standard search on mobile devices — just Google the place and click to bring up the window with more info, and a chart will now appear that logs how busy the spot is during business hours every day. Google did it by essentially repurposing the geo-location data Google Maps uses to show real-time traffic conditions. Now it's the dinner crowd at the neighborhood bistro instead of rubberneckers on the highway.
Google says these "popular times" charts are only going to appear for places where users are "commonly curious about how busy it typically gets" and want to save a few minutes. Strangely, the example it gives is of Blue Bottle in Williamsburg, which prepares all coffee to order and, if you're late to work and worried about nabbing your morning joe, is just not the place to ever go.
[Google+ via TechCrunch]