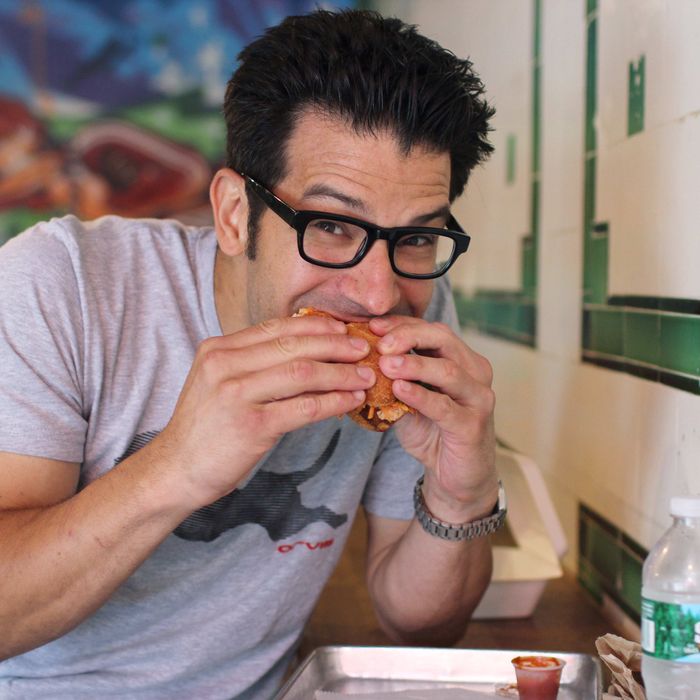 "I stopped by Num Pang — I've been going there since the day they opened."
Photo: Melissa Hom
"I noticed that once I hit the 40 mark, my health and my energy became paramount for me," says acclaimed chef George Mendes. "I felt my body do a shift and I was like, 'I'm done with the whole going out to late-night dinners after service and drinking beers at the neighborhood dive bar and falling into the stereotype of partying all the time.'" Mendes needs the energy these days, since he's just opened a second restaurant, Lupulo (which critics and diners both seem to really enjoy). But it's not all green juice and kale smoothies. "Look, I went to McDonald's on fucking Sunday, so, you know," says Mendes, who instead says he's simply trying to exercise more and be more mindful about the things he eats. "It's just a whole different direction, and I'm feeling better, period. My energy level is through the roof and I'm cherishing that."
Friday, July 10
I brew some coffee. I have a great blend from Colectivo that I bought during Fourth of July weekend on a trip to Milwaukee. It's a dark roast with beans from Brazil. Coincidently named George's Burly Blend. Went to grab a yogurt — I'm currently addicted — but I forgot to buy more, so I settled for a semi-fresh plain bagel, toasted it, a smear of cream cheese, and had a glass of OJ.
Dropped my Siamese, Roscoe, off at the vet, and my stomach was growling. I got my yogurt fix from Fairway, with banana, slivered almonds, and chocolate. Grabbed one of those Naked smoothies with strawberry and more banana and literally scarfed everything down on a stool at Lupulo as I caught up on emails and phone calls. I'm trying to eat lighter at lunch so I can keep a high level of energy. Afterwards, I delved into the kitchen with the boys.
By 3:30, I was at Aldea meeting with my team. Snacked on a sample of brined sheep's-milk cheese dropped off by one of our purveyors. Simply awful. I got happier with about ten slices of Newsom's country ham and a mini olive baguette. I eat some sort of cured ham on a daily basis, and I'm obsessed with any cured pork product — period.
Back at Lupulo by 4:30. Skipped family meal and opted for a strong cup of coffee. Service starts at five, so I was tasting a lot of everything, and too many French fries.
I left around 12:45, feeling a little hungry but went home to lie down, browse social media, and fall asleep by 1:30.
Saturday, July 11
Brewed the same coffee; had some OJ and instant Quaker oatmeal — apple-cinnamon flavor.
Ran some errands, then I popped into the Commons on Seventh Avenue in Chelsea for the killer egg sandwich they make: scrambled eggs, bacon, avocado, and tomato on a brioche bun. The place is tiny — six tables. And people were packed in. Had some more excellent coffee, by La Colombe, then went to Lupulo.
More yogurt later in the afternoon: peach flavor with stone-ground oats. I found myself fixing various odds and ends around the restaurant and went right into service. After a busy first rush, I got hungry around seven-ish, so I hid in the back to eat leftover chicken tacos saved from family meal.
Sunday, July 12
Aldea was closed, so I tried to make the most of a day off. Was up by 6:45, brewed some coffee, and got on the road to the Farmington River in Connecticut. Stopped at a bodega on 14th and B hoping they'd have breakfast sandwiches — no luck. So I got on the FDR and eventually pulled off into a rest stop on I-95 to pick up two sausage egg McMuffins at McD's. I always eat this on road trips … and feel like crap, of course. Had another coffee. Not too shabby.
I was in the river at 10 a.m. and netted a nice ten-inch wild brown trout who took a Blue Winged Olive fly. Released it back into the water, per regulations — it's so much fucking fun.
I broke for lunch and went to a biker bar/fly fishers spot with live bands. Got a cold-cut sandwich Italian-style combo and a Coke.
After I got back to New York, I stopped at Lupulo to say hello to some friends who were dining. Craving barbecue, I treated myself to Hill Country, which is walking distance from my apartment: lean and moist brisket, pork spare ribs, black pea "caviar," and corn pudding. Some ginger ale to drink because I've removed alcohol from my diet for the past two months — and feel pretty great.
Monday, July 13
Coffee, and a run at the gym. The late barbecue the night before left me with a sour stomach.
After the gym and emails, I stopped at the 'wichcraft nearby, where I go pretty often after a workout. Got the roast turkey sandwich with avocado, onion relish, and aïoli (hold the bacon). And a banana and some water — getting back on track after shitty Sunday eating.
A yogurt with chocolate chunks and almonds at Lupulo. I head over to Aldea, but am back at Lupulo for service and very quickly eat family meal of rice, spicy ground beef, and black beans while standing at the pass.
After finishing up, I was hungry. I pulled up Seamless while I walked home and ordered from Joe's Pizza in Greenwich Village. You can only get one size and it's huge. Enough cheese pizza with olives and mushrooms to feed four. I had two slices before falling asleep.
Tuesday, July 14
The usual coffee and a run along the Hudson that I know will bring me crazy hunger afterwards. I don't have a FitBit (yet!), but the run was roughly two miles.
After showering, I stopped by the Num Pang on Broadway and 25th. I've been going there since the day they opened. This time, I got the coconut-tiger shrimp sandwich.
At Lupulo, around 3:30, I tasted our sonhos — I ate four with salted caramel and passion fruit.
Obviously with Lupulo opening recently — we're only two, almost three months old now — I've been spending 90 percent of my time there, putting systems in place and going through the whole phase of critics and all that stuff. But I'm definitely starting to find myself in the role of more of a coach, leader, delegator. That afternoon, I hit Aldea to taste and fine-tune some new dishes with my chef de cuisine, Arnie, and sous chef, Jordan: snow-crab-and-tomato salad with coriander, and a hot lobster with summer-squash purée, charred onion, and shishito peppers. With a few tweaks, that will be really great stuff.