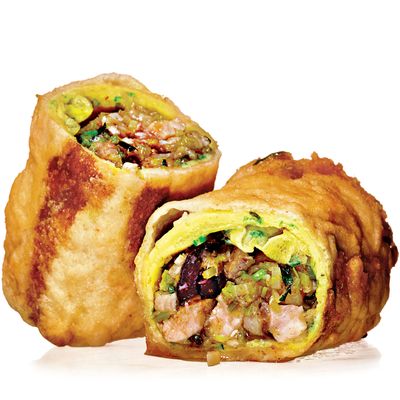 It'll taste just as good.
Photo: Bobby Doherty/New York Magazine
Critical darling Fung Tu had to temporarily shutter last week because of a gas leak, and though there's currently no definitive timetable for a return of full service, the restaurant is indeed back in action tonight with a limited "No Gas" menu. Starting at 6:00 p.m, and going through Sunday, chef Jonathan Wu and his team will offer signature dishes like their pork-belly egg roll and summer creations like doufu ru ricotta gnocchi.
The cooking won't be totally limited: They'll use induction burners to pan-roast duck and will still have their electric combi oven, which they'll use to steam ingredients that would otherwise be baked, boiled, braised, and so on. There will also be drink specials, including two-for-one wines by the glass (no bubbles, though) as well a 20 percent mark off on all bottles of wine on Sunday.
Fung Tu is a fine place to eat when the gas is going, and it sounds like Sunday will be a great time to take advantage of beverage director Jason Wagner's excellent wine list.
Menu [PDF]