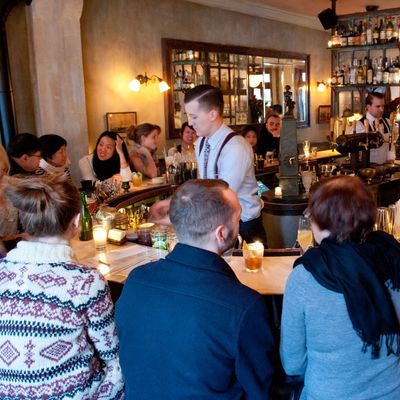 Party like its 1776 at Maison Premiere.
Photo: Liz Clayman
The best thing about staying in New York during a holiday weekend is how easy it can be to stroll into some of the city's greatest restaurants. And since it's the weekend of July 4, there are plenty of fantastic cookouts, parties, and special dishes around town — with no schlep to the Hamptons required. Here are 14 places to check out:
Achilles Heel
When: 4 p.m. to 2 a.m.
Price: à la carte
What: The dockyard-inspired Greenpoint bar from Andrew Tarlow will serve burgers, lobster rolls, and drinks all night, with tunes from DJ Josh Wiles.
Marlow and Sons
When: 8 a.m. to midnight
Price: à la carte
What: And over at Tarlow's Williamsburg restaurant, he'll serve specials like a charcoal-grilled lobster sandwich for brunch, and follow that up at dinner with a Le Grand Aioli, a special featuring fried fish and seasonal vegetables.
Maison Premiere
When: 11 a.m. to 5 p.m.
Price: à la carte
What: The Brooklyn absinthe den never misses a chance for a celebration, and they'll be doing it up this year with oysters, drinks, live music, and specials from chef Lisa Giffen.
Riverpark
When: 6 p.m. to 10 p.m.
Price: $250
What: The farm-to-table restaurant from Tom Colicchio is throwing a ticketed barbecue, with an open bar, to celebrate the holiday, serving a menu of American classics like Carolina-style whole hog, corn on the cob, and smoked brisket. Plus, you can see the fireworks from one of Manhattan's only waterfront dining destinations.
Narcissa
When: noon to 8 p.m.
Price: $56
What: John Fraser's vegetable-friendly restaurant at the East Village Standard is hosting a reservations-only New England-style lobster bake on its terrace. The menu includes steamed lobster, barbecue spare ribs, jalapeno-cheddar cornbread, plus specials on beer pints and pitchers.
The Dutch
When: 11 a.m. to 10 p.m.
Price: à la carte
What: The downtown American restaurant is bringing back its annual holiday cookout: Andrew Carmellini's team is serving an à la carte menu of all-American dishes like shrimp hush puppies with pickled jalapeño, a barbecue plate with smoked brisket and pulled pork, and desserts like peach pie with blackberry-buttermilk ice cream.
Sotto 13
When: 11 a.m. to 3 p.m.; 5 p.m. to 11:30 p.m.
Price: $35
What: The West Village restaurant is going whole hog once again, serving dishes made from a special pig roast for brunch and dinner.
The Fourth
When: 7 a.m. to 11 p.m.
Price: à la carte
What: The Union Square restaurant, from the people behind Tocqueville and 15 East, will serve lobster rolls, surf-and-turf burgers, a watermelon ice-cream sundae, and mixed berry shortcake.
Blue Water Grill
When: 11:30 a.m. to 4 p.m.; 5 p.m. to midnight
Price: à la carte
What: At this seafood-centric Union Square restaurant, there will be mini hot dogs (the best!), backyard ribs with sweet corn on the cob, and a chocolate s'mores tart.
Boqueria
When: all day
Price: $17.76
What: An "Independence Special" includes a burger served with patatas bravas and a choice of a beer or red sangria.
Greenpoint Fish & Lobster
When: all day, starting at noon
Price: $15
What: The popular fishmonger and seafood shack will debut a brand-new menu item during the holiday: a lobster corn dog. A half-tail of Maine lobster is dipped in corn-dog batter, deep-fried, and served on a stick with tarragon-lemon aïoli and Old Bay seasoning. It comes with wedge fries and coleslaw.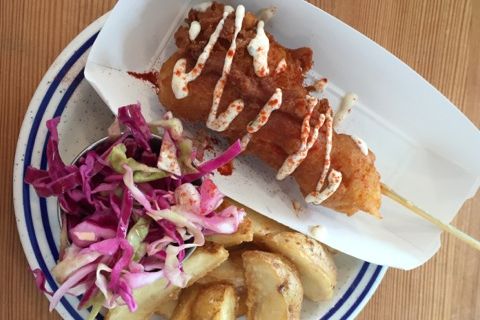 OddFellows Williamsburg
When: all day, starting at noon
Price: $5 per scoop
What: For Independence Day this year, ice-cream wizard Sam Mason will debut a new flavor based on the Huckleberry Gin Gimlet: juniper ice cream made with a sweet-cream base, candied huckleberries, and Portobello Road Gin.
Rosemary's
When: brunch and lunch, all week
Price: $20
What: The always-packed West Village trattoria is serving an Italianate spin on the classic American burger, made with beef, prosciutto, and guanciale, paired with a Narragansett lager.
Shake Shack
When: Thursday, July 3 through Sunday, July 6
Price: $4.25 to $6.50
What: Everyone's favorite burger chain is bringing back its July 4th specials: a Shack Corndog, made with Vienna all-beef sausage and served with Rick's Picks sweet corn relish, and a Blueberry Pie Oh My Concrete — vanilla custard blended with house-made blueberry pie.