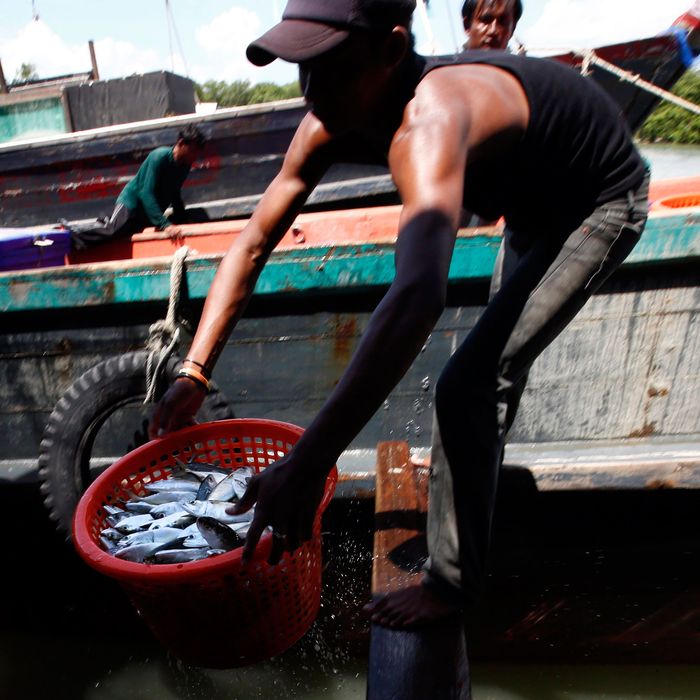 The AP report has led to freedom for more than 800 fishermen.
Photo: Barbara Walton/EPA/Corbis
The Associated Press filed yet another exposé today on the impossibly cruel conditions immigrant fishermen endure in the waters off Thailand and Indonesia. For years, it's been known that these workers, whose catches the AP says "cloud the supply chains" of every product from boxed fish to cat food, live as slaves, but the latest in this ongoing series goes into a bone-chillingly new level of detail about the horrors they face.
Hundreds of Burmese men told AP reporters that they were beaten or abused by captains of boats run by Thai fishing companies. It's essentially the worst life imaginable:
They were made to work almost nonstop for nearly no pay, with little food and unclean water. They were whipped with toxic stingray tails, shocked with Taser-like devices and locked in a cage for taking breaks or attempting to flee. Sometimes, the men said, the bodies of those who died were stashed in the ship's freezer alongside the fish.

Workers on some boats were killed for slowing down or trying to jump ship. The Burmese fishermen said others flung themselves overboard because they saw no escape.
The majority of the story actually focuses on one man, Myint Naing, whom the AP (in the story's one bright spot) helped reunite with his family after 22 years in captivity. Naing was abducted by a Thai boat captain at 18, did manual labor sometimes for 24 hours a day, and slept on a bed of dead fish and rice.
So far, the AP's investigation has made the Indonesian government so uncomfortable that officials have started rescuing slaves, and more than 800 have now been freed. Walmart, Kroger, and other companies tainted by slave-caught fish have all condemned the practice, and say they're doing what they can to get it out of their supply chains.
[AP]