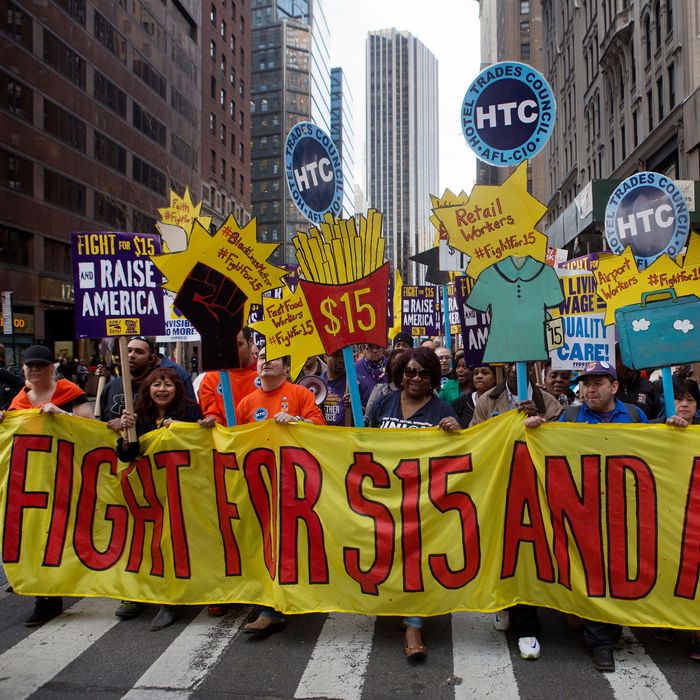 Fast-food workers at a protest on April 15.
Photo: Victor J. Blue/Bloomberg via Getty Images
As expected, New York Governor Cuomo's wage board officially recommended a proposed minimum-wage increase for fast-food workers, which will nearly double their hourly pay in a series of increases over the next six years. The recommendation has been billed as a major victory for the workers and their supporters, not just because of the change that will happen in New York, but because Cuomo believes that it'll cause a ripple effect across the country. Seattle and Los Angeles have both previously approved gradual $15 minimum wage hikes, but this is the first time it has been done on a state level — even if it's just for workers in a single industry.
Bill Lipton, the New York state director of the Working Families Party, tells the Times, "There's clearly a new standard for the minimum wage, and it's actually a living wage for the first time in many, many decades." Workers — who rallied with a marching band — echoed his statement, deeming it an opportunity to be able to put food on their tables and give their kids a real future. But not everyone is thrilled with the decision, and raising the minimum wage for all workers, as Cuomo intends, may be unpopular with small-business owners in the restaurant world. The state has already met resistance on that end. When the tipped minimum wage was raised from $5 to $7.50, Andy Ricker, who has restaurants in Portland, L.A., and New York City, argued to Grub that it "ultimately may end up hurting the very folks the change is meant to help."
First, though, the recommendation will have be approved by acting labor commissioner Mario Musolino. The state will likely face more resistance from the fast-food industry along the way, though, as a group of franchise owners have hired former Rudy Giuliani deputy mayor Randy Mastro with the intention of stopping the wage hike dead in its tracks. Mastro is making his new clients out to be the true victims, telling Crain's, "These are small-business owners with low margins who are trying to survive."
[NPR]