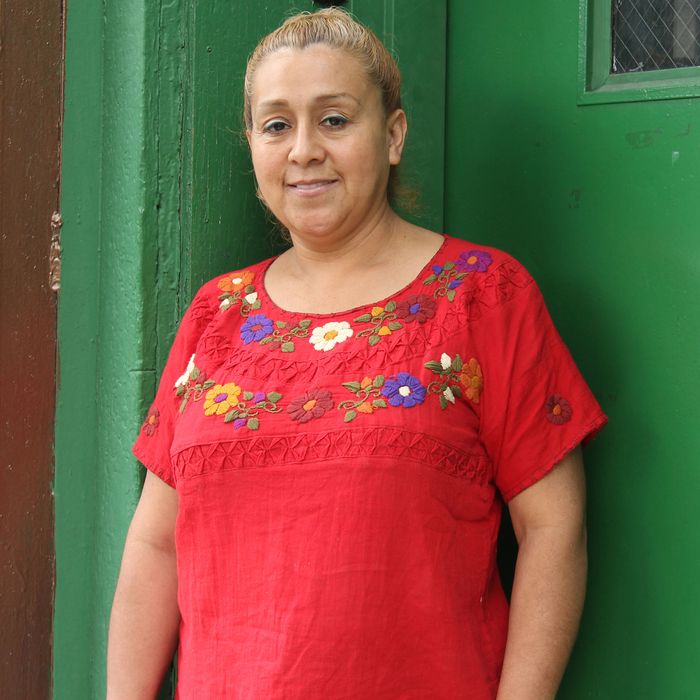 Denisse Lina Chavez outside her new restaurant.
Photo: Melissa Hom
Over the last decade or so, carnitas whisperer Denisse Lina Chavez developed a devout, sometimes obsessive following for her soulful southern Mexican cooking. First gaining notice at her tiny bodega El Atoradero, where on weekends she plied the comal, Chavez's reputation blew up at her follow-up restaurant, Carnitas El Atoradero, where she dabbled in more home-style cooking. But when that restaurant unexpectedly and unceremoniously shuttered last month, fans were left wondering just where exactly they were supposed to get their guasmole and salsa borracha fix. Now they have an answer, as Chavez will open El Atoradero Brooklyn, a new, more ambitious restaurant at 708 Washington Avenue in Prospect Heights, in late September.
Chavez won't be going it alone this time, though. For the restaurant, which will be her first outside the Bronx, she has teamed up with one of those devout fans: Noah Arenstein, who, like Ed Schoenfeld swooping Joe Ng out of Sunset Park, is bringing Chavez to Brooklyn. A lawyer by trade, the brains behind the Workmen's Circle culinary events, and a partner in Carolina 'cue house Arrogant Swine, Arenstein has made the jaunt up to El Atoradero from his Brooklyn home plenty of times over the last four years. His new partnership with Chavez, though, is purely accidental. A few days after El Atoradero's ouster was announced, Arenstein and Dassara's Josh Kaplan, also a partner, had found themselves with a great deal on a space — but without a chef to fill the kitchen.
"I love her food. It's partially a business decision but a very personal one. Business-wise, she has the best Mexican food in town and I want to give more people the opportunity to eat it," Arenstein told Grub. "I want to open restaurants I would want to eat at and would be willing to travel to, like I was with her."
While Carnitas El Atoradero was a sliver of a space with just four tables and a sardine-can kitchen, Chavez's new restaurant is a major upgrade. The dining room will seat 45 to 50 people and be centered around a large bar and open kitchen. The goal is to preserve the kind of intimacy of the last El Atoradero, where Chavez would hand out samples to guests. Whereas in the past she had no one to rely on but herself, Chavez will just be in charge of the kitchen here, something that excites her because it'll allow her to really focus on the cooking. (She will have a hand in all aspects, down to the design.) Their only goal is to keep things the way they were, in spirit, but up the ante and let Chavez "do more of what she wanted to do" up in the Bronx.
Practically speaking, that means greater emphasis on the often-more-obscure dishes that Chavez wasn't able to serve with regularity in the Bronx, like pigs feet cooked in vinegar, tortas de camaron (dried shrimp patties), and traditional consomme de chivo, made by collecting drippings as a goat roasts. Of course, there will be the weekend gold rush specials that set her last restaurant apart, like tender albondigas en chipotle and costillas en salsa verde, as well as carnitas and new dishes like Mexican-style ceviche and, less specifically, more vegetables. They'll make an effort to change the menu throughout the year — "not have this calcified Mexican menu, but something that's constantly changing and evolving" — and Arenstein is particularly excited to be opening in time for fall's bounty of squash. The kitchen will be anchored by a trompo, and Chavez has talked about making masa from scratch.
Just as exciting is that guests won't be confined to drinking just atoles and aguas frescas anymore, as the new spot will have a full liquor license, a margarita machine, and the cocktails to show it. When Arenstein and Kaplan first brought Chavez to the space, the conversation naturally turned toward the bar, and she started going deep on Michaeladas and Cheladas. Chavez had never had the chance to extol the virtues of Mexican cocktails and now she'll get a chance to show New Yorkers the virtues of Vampiros and Sangritas, while partner Jared DeLine, who worked at Denver distillery Leopold Brothers and Manhattan's the Windsor, slings modern, original cocktails like a Michelada variation of beer, lemon, Clamato juice, and a mezcal floater. It's all part of an effort to turn El Atoradero into a complete experience and an all-day neighborhood destination.
When restaurants are kicked to the curb, they don't often recover — much less this quickly — and rarely do owners expand upon their original visions. As the new spot shapes up, it very well could become the Cheap Eats destination to beat for fall 2015.