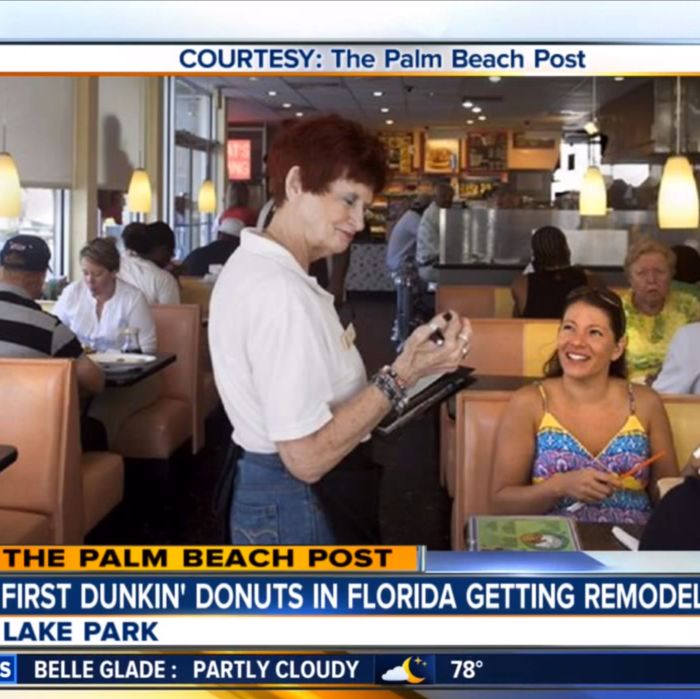 Somehow not an alternate universe.
Uh, a Dunkin' Donuts diner? No lie, such a thing exists, somewhere near the bottom of Florida right above Miami, but for only one more day. Since 1962, this landmark spot has apparently thrived as a fast-food franchise in the greasy-spoon big leagues, cranking out grits, fried fish, and hash browns to patrons sipping from ceramic mugs at booths. It's the world's last, meaning it had siblings, though they must have gone out of commission eons ago. Now the full-service part is getting 86'd to give the location a face-lift and make it just like all the others.
"A hole in my heart" is how some loyal customers describe the news, and the grill cooks and waitresses, like 68-year-old Pamela Nunnenkamp, who's been memorizing customers' orders there for 24 years, are probably out of a job, unless they want to retrain for one at a register.
Owner Dan Bowers's rationale is one we've heard before, and it's a rather confusing one: While historic, the diner has fallen behind the times and "doesn't have the equipment to offer customers what other modern locations do." Meaning fake Cronuts and pizza bagels? Not offering those things is sort of the point.