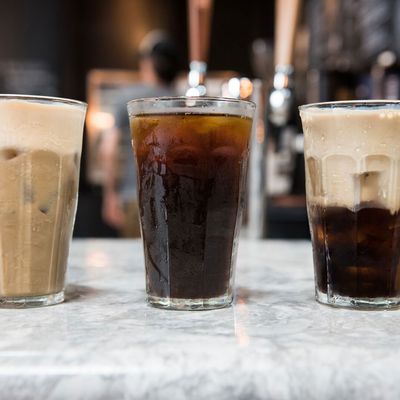 The draft latte, Pure Black cold brew, and a 50-50 mix.
Photo: Courtesy of La Colombe
If you follow the coffee world at all, you know that this year has seen something of an explosion in drink-making innovation. You got your nitro coffees, your coffee-and-tonic, your coffee lemonade, and so, so many other choices. Never one to rest on his laurels, La Colombe's Todd Carmichael is right there, too. Earlier this summer he debuted what he's calling "draft latte" at his Philly flagship location and, this week, he's unveiled the creation in Manhattan, too.
The draft latte is exactly what it sounds like: a cold, frothy milk-and-coffee combo that pours a little like a Guinness and costs $4. La Colombe also offers its Pure Black cold brew on tap (no milk) and, to keep the Guinness comparison going, customers can order a 50/50 pour of Pure Black and draft latte that Carmichael calls, appropriately, the black and tan.
At the moment, the draft lattes are available at the Hudson Square location, and they'll be for sale at the Noho shop on Lafayette Street starting tomorrow. After that, La Colombe says the taps will start flowing at all of its cafes before the end of the summer.