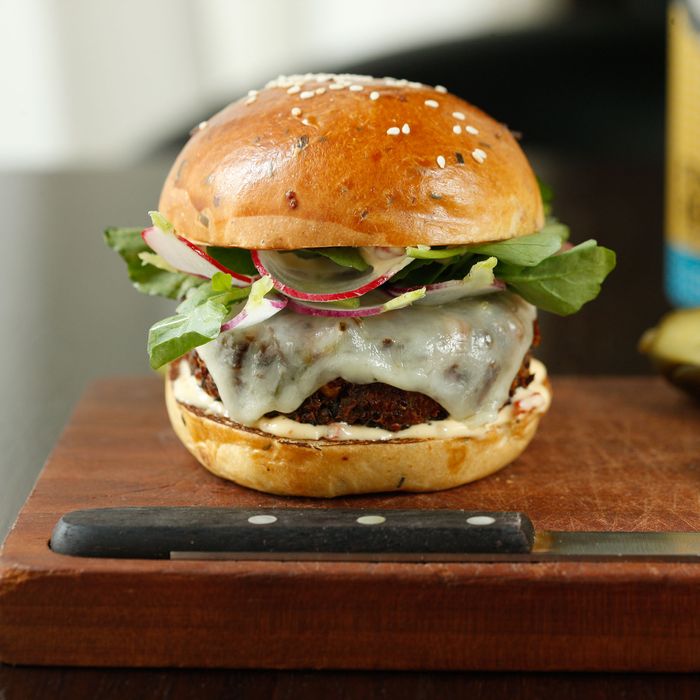 The new veggie burger at the Nomad Bar.
Photo: Melissa Hom
Common wisdom holds that in the history of veggie burgers, exactly two have been worth eating: the justly celebrated, if loftily named, Superiority Burger from former Del Posto pastry chef Brooks Headley; and the beet-red juice-pulp burger that Blue Hill's Dan Barber recently unveiled at his limited-time-only WastED pop-up. Now, however, a third contender to the crown has emerged from yet another high-minded chef, many-starred chef: Eleven Madison Park's Daniel Humm, who this month broke out a veggie burger of his own at the casual Nomad Bar.
On first glance, the $16 burger looks not dissimilar to the Nomad Bar's original beef burger, tucked into a homemade bun, with the same pickles on the side. A little bit of greenery peeking outis the first indication that something is different. And, like Headley's burger, the veggie patty itself is grain-and-legume heavy and surprisingly deep in flavor. Humm and executive chef James Kent make their loose, noticeably crumbly patty with a combination of quinoa, lentils, chickpeas, corn, mushrooms, onions, and garlic — then add richness with Dijon and curry powder, as well as binding agents like eggs and cream cheese (really), before frying the patties until they develop a crisp crust. Piquillo-spiked Kewpie aïoli, pepperjack cheese, and radishes and watercress round things out.
The supposed benefits of veggie burgers over their beef-based counterparts are clear: They're better for you, and better for the environment. But that virtue is more or less undone if the burger tastes like mushed-up garden mulch. The Nomad Bar's, luckily, does not, and makes a strong case to be included among the city's now-growing roster of grade-A, plant-based burgers.