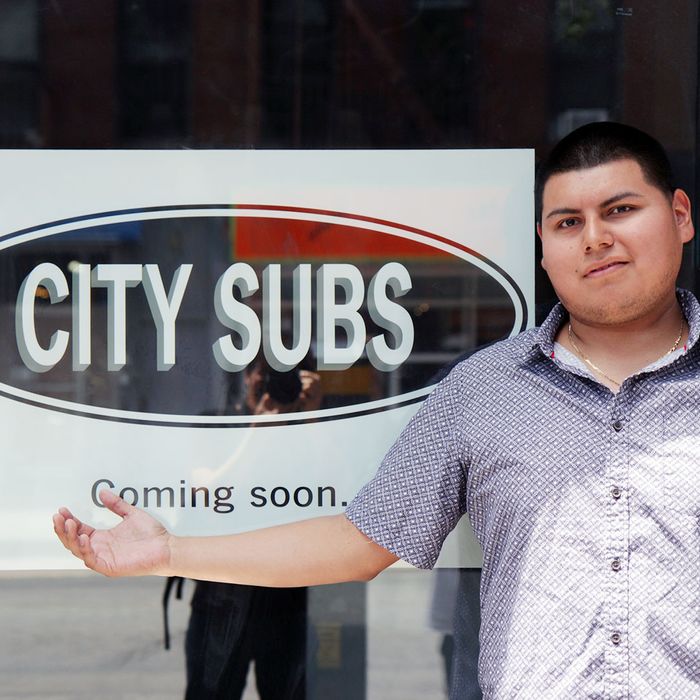 The shop's new owner, Thomas Moran.
Photo: James Boo
Last week, a mysterious "City Subs" sign appeared in a vacant Park Slope storefront, leading many to believe that the beloved City Sub — singular — might soon reopen. It turns out, that is the case — sort of. The sign was posted by co-owner Thomas Moran, the last remaining employee of the original City Sub, who will open the new shop at 82 Fifth Avenue. (He's aiming to be open by the end of August.) Grub caught up with Moran to talk about how he came to take over the shop, why the original went under, and what's up with the slightly different name.
What's your connection to the original City Sub?
I was an employee, working there since I was a teenager. I got about ten years working in the business. I learned everything, from where we get the bread, how to process everything, how to refrigerate everything, what's good or bad, how to slice tomatoes and onions at exactly the level that customers wanted.
So, why did City Sub close? It seemed like people loved it.
We closed due to the renovations they had to do in the building. The landlord told us, "You guys can stay open, but as soon as I get the permits to start construction, I'm gonna need you guys out." He didn't give us any specific date or anything, so he said, "If you guys just wanna leave now, I'll have the place ready again in about a year or so."
Mark [the longtime owner of City Sub who rarely told people his full name] didn't want to wait that long. Mark was in the process of leaving already. He just had this store open to pay for his daughter's college tuition, and after that, he was leaving. He was already talking for years about leaving New York.
So the time finally came. Everyone was pushing him into opening another store, but he didn't want to. He said, "If Thomas wants to go with it, he can go with it. He knows everything already."
So are you opening as City Sub, or as City Subs?
At the time, Mark said that [City Sub] wasn't gonna be able to be used, because he was gonna go to court for the fact that he had a lot of inventory. All the inventory he bought, and all of a sudden the landlord closed down, so he wanted to be reimbursed for his money.
What he said is, "If the landlord's not gonna reimburse me, we're gonna have to go to court, and I'm using the name in court, so if you want, you can just add an S — you know, 'City Subs' — and it'll be good." That was pretty much it.
Did that court thing ever happen?
I don't know. I didn't really wanna ask him about it, because he was kinda mad about it. Anything that got him mad, I stayed away from.
From your perspective, how much did this have to do with the opening of Barclays Center?
I guess you could say the landlord wanted to make money because everything's going up. The rent out here was becoming crazy outta hand. The building we were in was abandoned. Initially, the owner of the whole building passed away before construction finished.
[The landlord's younger brother] wanted to renovate and start renting out the location. He had two apartments up there. By renovating, he had to gut everything, so he had to get rid of us. To this day, I don't think he finished with the renovations.
When did you decide that you were going to lead the way for City Sub to return?
Throughout the time that Mark was in the business, he was always throwing hints at me, like "I'm just gonna leave New York and leave this to you. You could do it. You could handle it."
I never took it serious, till Sal [a longtime customer well known by Mark and Thomas] came up to me and said this is a gold mine. He made me think about it … So after it closed down, a lotta people were throwing offers at me. They wanted me to open a sandwich shop with them … I called Sal, because he was the first one to come into the picture. I called him, and he said, "Let's do this. Don't worry about everybody else. We can just do this ourselves."
And as you were searching, what was the biggest hurdle? It's been a year now.
The only thing that's been a setback is getting a good location in the neighborhood. We could have easily moved to any other borough. Anywhere. [Sal] actually wanted to go to Miami to do this, but little by little, we were just looking around, bumping into a lot of locations.
I decided that Nuteria is a decent location. I said, "Let's just wait for this place to go out of business … it shouldn't be that long." They closed within the month that I said that.
Why are you committed to doing this? What's important to you about bringing City Sub back to Brooklyn?
It's not like a job. It's like something you love doing now, because I did it for ten years. I love attending people. All the customers were friendly. We had a good time. Every time I come to the neighborhood — 'cause I'm originally from Bushwick in Brooklyn, and I moved to Maspeth in Queens — I run into a lot of old customers here, and at the mall on Atlantic. They always ask, "City Sub, City Sub. You gotta bring it back." I'm saying, l just give what the people want. Let's see how it goes.
Will the new City Sub sandwiches be exactly the same? Have you planned any changes?
No, no, no, no. We're gonna keep it the same.