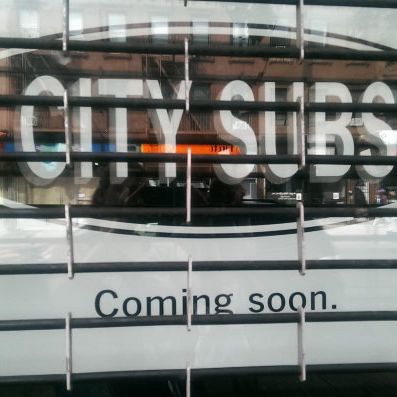 There's something off about this sign.
Photo: Shannon Geis / Park Slope Stoop
After the beloved City Sub was forced out of its Park Slope home last year, workers hinted that the no-frills sandwich shop would eventually be back. One year later, long after some early relocation rumors proved untrue, it seems that the longtime favorite could be making its triumphant return — maybe. A sign that, at first blush, appears to be for the sandwich shop appeared in a vacant Fifth Avenue storefront, promising that "City Subs" is "coming soon," giving Brooklynites hope that it would finally return.
But careful observers will note there's a problem: The sign says City Subs, while the original spot was very famously just City Sub. Is this an official sequel, the Aliens to City Sub's Alien, or is something more mysterious afoot? One other thing to give you pause: The sign is posted at 82 Fifth Avenue, a.k.a the former location of Nuteria, the unofficial Nutella emporium that closed earlier this year (after originally opening as Nutelliera).
So, it's not yet clear if this really marks the potentially triumphant return of City Sub(s), if it's simply a strange printing error, or if this is just some ruse concocted by a sinister impostor trying to cash in on the shop's good name. Park Slopers desperate for the return of their favorite sandwich shop may want to take a cautiously optimistic approach to this forthcoming shop.
*This post has been corrected to show that name of the blog is Park Slope Stoop, not Here's Park Slope.