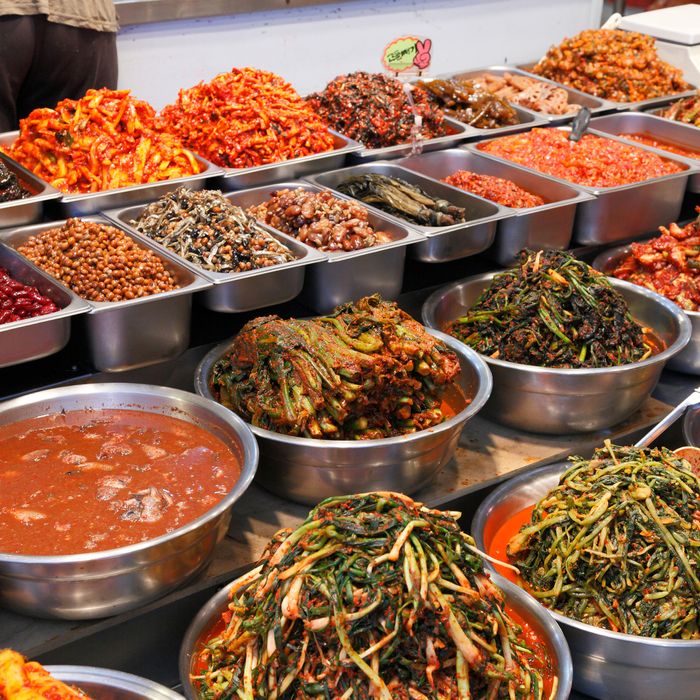 Don't mess with kimchi.
Photo: JTB Photo
Arguably humanity's greatest achievement in fermenting, kimchi has long been a source of national pride for Koreans — but now it's at the center of some major drama between South Korea and China. The reasons for the problem are some pesky, seemingly bogus regulations: South Korea used to export hundreds of thousands of dollars' worth of the fermented cabbage into China, the small nation's largest trade partner, until a few years ago when the Chinese government decided to slyly reclassify the ancient recipe as a "pickle." (The two nations have scuffled over the food since at least 2005.) As commercial pickles are apparently required in China to be sterilized and low in bacteria, kimchi sales were effectively blocked because of the food's high bacteria content, and exports to China plummeted to a meager $108, or roughly nothing, in 2013, before rising slightly to $16,800 in 2014.
To add insult to injury, China has reportedly also been flooding the South Korean market with its own, cheaper Chinese kimchi for years, undercutting the domestic product and causing a sore spot so severe that the two nations haven't even been able to formally discuss the best techniques for fermenting cabbage in years.
While China has said it plans to revise regulations, providing a glimmer of hope, it's not entirely clear that the country — which clearly controls the conversation — is really going to do anything about it. All of this is enough to put the South Korean kimchi industry in a bind, an industry that's already hurting owing to losing relevancy with the country's younger generation. If Grub can, briefly, play the role of peacemaker, it's probably worth pointing out that kimchi is delicious and should be free-flowing for anyone who wants it, and any bureaucratic hand-wringing that gets in the way should be squashed immediately.
[NYT]