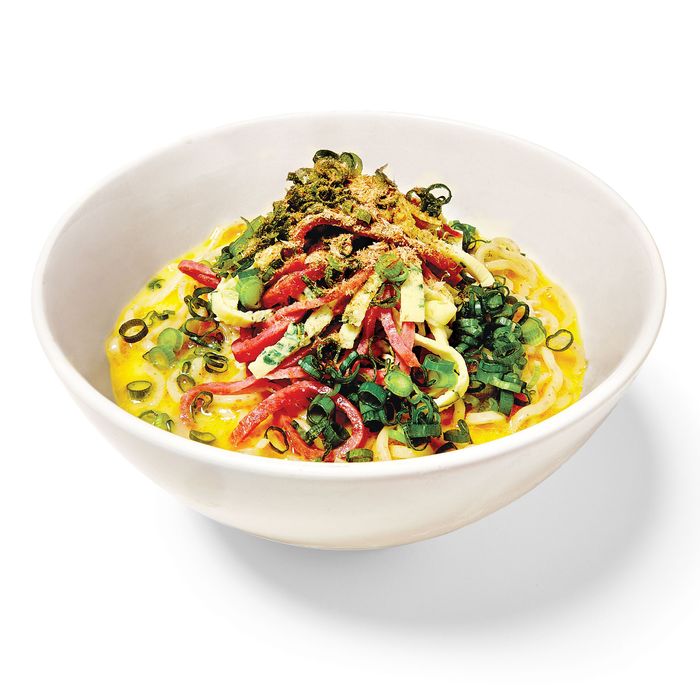 Ivan Ramen Slurp Shop's 8AM Ramen.
Photo: Bobby Doherty/New York Magazine
Eating cheap isn't just about finding the latest in budget-conscious menus or wallet-friendly trends. Here, we break down how to pinch pennies by getting up early, showing restraint, and eating your greens.
Option 1: Eat Breakfast
You know how going out to lunch is often more enjoyable than going out to dinner: easier to get into the restaurant, mellower vibe, smaller check? Well, that goes double for breakfast. Here, five new and unusual morning meals worth setting the alarm for.
8AM Ramen
Ivan Ramen Slurp Shop, $13
It's ramen. And breakfast. It's whole-wheat noodles in a fonduelike double-dashi-Cheddar broth with strips of scallion omelette, griddled Taylor ham (a.k.a. pork roll), and a dusting of katsuobushi. It's strange. It's wonderful. It beats oatmeal. 600 11th Ave., nr. 44th St.; 212-582-7942
Italian Breakfast Sandwiches
Alidoro Midtown, $3.50
Unlike the Soho HQ, the roomy new midtown branch of the excellent Italian sandwich shop Alidoro is open weekdays for breakfast, and that means breakfast sandwiches. Basically, they're miniaturized and poached-egg-topped variations of sandwiches you find on the lunch menu, but served on cute little brioche buns instead of giant hero rolls. Our favorite is the Carlo ­(porchetta, Piave cheese, poached egg, and hot-­pepper spread). Though, at $3.50 a pop, you can try all four without breaking the Cheap Eats breakfast bank. 18 E. 39th St., nr. Madison Ave.; 646-692-4330
Ichiju Sansai Set Meal
Okonomi, $15
Okonomi's elegant take on the traditional Japanese morning meal includes a daily choice of fish plus a cube of omelette, pickles, vegetables, brown rice, and miso soup. When people say that eating breakfast enhances brain function, reduces weight, perks you up, primes your metabolism, may prevent heart attacks, and generally adds to the enjoyment of life, it's likely they've just paid the check at Okonomi. 150 Ainslie St., nr. Lorimer St., Williamsburg; no phone
Carbonara Sunnyside Eggs
Marta, $15
At dinner, Nick Anderer turns a bowl of pasta alla carbonara into a pizza so good even Italian-food snobs like it. This is how he reinterprets the classic Roman dish for breakfast: two nicely fried eggs showered with grated Pecorino on top of a crisp potato-and-guanciale hash. 29 E. 29th St., nr. Madison Ave.; 212-651-3800
Avocado-Ice-Cream Toast
Morgenstern's Finest Ice Cream, $6.50
Sicilians get their gelati con brioche fixes not long after they roll out of bed; Lower East Siders have something even better: Nicholas Morgenstern's subtly flavored avocado ice cream spread like peanut butter onto a thick slab of toasted Japanese milk bread drizzled with olive oil and condensed milk and seasoned with pepper and sea salt. You may never skip breakfast again. 2 Rivington St., nr. Bowery; 212-209-7684
Option 2: Create a Vegivore Menu for 2
The challenge: Eating well — and inexpensively — at a restaurant where the multi-category menu tempts you to overorder and overspend. the solution: Taking Michael Pollan's aphorism "Eat food. Not too much. Mostly plants" as inspiration, build a five-course DIY vegetable-focused tasting for two. The seasonal, Italian-inspired Vic's in Noho is the perfect place to cobble together a cheapavore meal. Here's your instruction manual.
Mouse over or tap the images to reveal the tricks.
Grand total: $66
Option 3: Go Halfsies
Share a big, fatty sandwich, drink a mini-cocktail, or slurp down an off-the-menu half-portion of pasta — and save.
Alder's Shorts
We live in a craft-cocktail town where a $14 tipple is about the norm, which is why we like Alder's "shorts" — smaller versions of some of the inventive drinks on the cocktail list at half the regular price. They're perfect for when you just want to wet your whistle or test-drive something racy like Dr. Dave's 'Scrip Pad (rye, yuzu, amaro, smoked maple) before you commit. Or maybe you just want to try several drinks without falling off your barstool. $7; 157 Second Ave., nr. 10th St.; 212-539-1900

Perla's Bucatini Cacio e Pepe
The recently revamped menu includes five first-rate pastas, all available in half-size portions if you ask nicely. At $9, the perfectly al dente bucatini cacio e pepe is a steal. 24 Minetta Ln., nr. Sixth Ave.; 212-933-1824
Ribalta's Spaghettoni al Pomodoro
Save room (and cash) for the DOC margherita pizza by ordering an off-menu primi portion of this unbelievably good pasta, made with pricey preserved tomatoes imported from the old country. $12; 48 E. 12th St., nr. Broadway; 212-777-7781
Harry & Ida's Pastrami Sandwich
It's not as big as the one at the Carnegie, but it's cured and smoked in-house, served on a remarkably fresh and springy club roll, and crowned with housemade pickles and a corsage of dill. Plus it's available by the half-sandwich for $8.50. 189 Ave. A, nr. 12th St.; 646-864-0967
Saiguette's Bánh Mì
Most Vietnamese sandwiches are comparatively dainty by hero standards (if you place them in that category, which we do). Not so Saiguette's, whose kitchen sandwich station must be run by a refugee from Defonte's. The No. 39-F, the "grilled juicy boneless chicken thigh," is almost something you'd bring to a Super Bowl party. Split one with a pal for $4.50. 935 Columbus Ave., at 106th St.; 212-866-6888
*This article appears in the July 13, 2015 issue of New York Magazine.