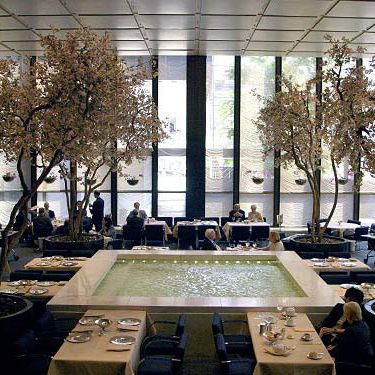 "No matter how bad you want it to be, it's not a museum."
Photo: Noah Kalina
Mario Carbone, Rich Torrisi, and Jeff Zalaznick — experts at revamping historic restaurants — have signed a contract to take over the storied Four Seasons restaurant. After 40 years, Julian Niccolini and Alex von Bidder's lease is up in July of 2016, and owner Aby J. Rosen has been publicly looking for new partners. Under the Major Food Group's direction, the restaurant will receive a new name and younger, fresher feel.
"The idea is to restore and reinvigorate the greatest restaurant space that's ever existed," Zalaznick tells the Times. There will be three separate experiences, and menus, offered within the restaurant: the Grill Room, the Pool Room, and a more casual Brasserie. And, of course, the power lunch will remain a fixture.
While Rosen says that he does plan on making some cosmetic changes, he'll be limited, as the Landmarks Preservation Commission recently deemed that the interior of The Four Seasons cannot be altered. It sounds like there might be some friction there, as Carbone says, "No matter how bad you want it to be, it's not a museum."
The Major Food Group will certainly have some healthy competition: Eleven Madison Park's Daniel Humm and Will Guidara recently announced plans to open a "Four Seasons on steroids." That project's scheduled for 2017, with The Four Seasons reboot scheduled to launch around the same time. According to the Times' Jeff Gordinier, "Once the current owners have moved out next summer, the new team says it will sweep into the space with hopes of sprucing it up and reopening it in a matter of months." That is, well after the opening of the Torrisi reboot, Sadelle's, a Carbone location in Las Vegas, and endless locations of Parm.
[NYT]