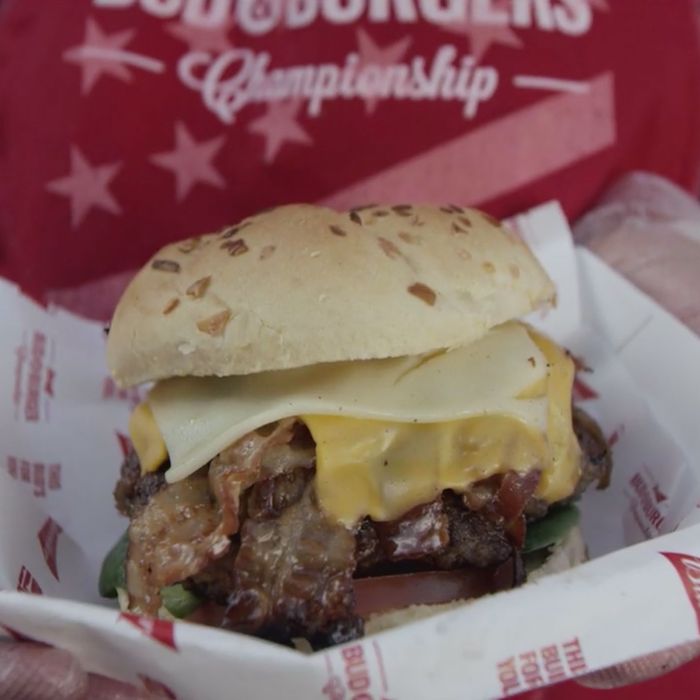 The David Chang–approved winner.
This weekend in St. Louis, Budweiser held that big "Bud and Burgers" contest — the national competition you probably saw advertised on TV or in your Twitter feed recently. Bud said the national winner would be judged by "you & David Chang," Chang of course being a seasoned cheap-beer enthusiast. And so, ten finalists were brought in to vie for the title of America's best burger-maker.
Angie Bos took home $100,000 for her bacon bratwurst burger, but the bigger news to emerge is that half of the finalists say the contest devolved into a fiasco. They complain that the way attendees judged the burgers (a text-voting system) favored certain local competitors, and that Bud's event people told them to prep for 1,000 attendees, when roughly 5,000 were let in. "They had no idea what they were doing," one of the five angry finalists told Fox 2. "There weren't enough ingredients. They didn't order properly for it."
Alas, while the Budweiser flowed freely, attendees (again: a.k.a. the voters) started tweeting complaints before the thing even wrapped up saying they only got "a quarter of a burger" or "1/2 of a burger" total.
Probably ready to sweep this one under the rug, Budweiser has offered to give refunds to people who paid 20 bucks and didn't eat. "We're sorry to hear that some attendees didn't get burgers at yesterday's event," reads a statement released by the beer brand. "Due to the overwhelming interest, we ran out 15 minutes earlier than expected."
Budweiser's marketing arm also doesn't seem too worried about the whole thing; instead, it seems content to continue Bud's strange campaign of mocking craft beers, despite the fact that Bud's parent company, Anheuser-Busch InBev, has been buying up craft-beer brands left and right.
[Fox2]