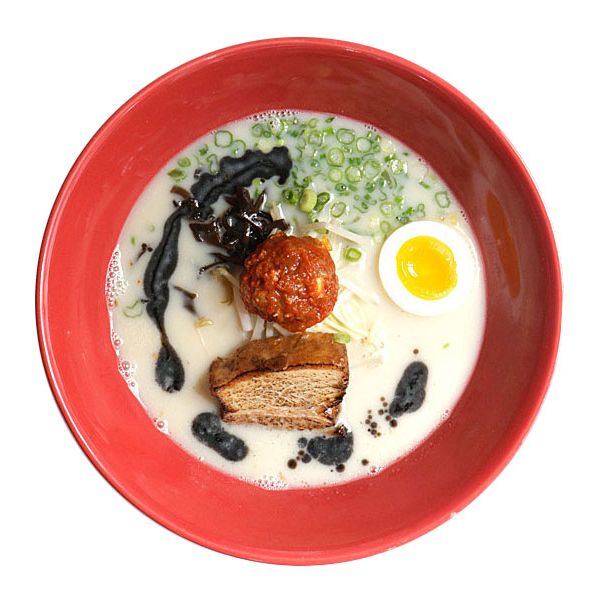 The ramen at Ippudo, one of the city's great options.
Photo: Hannah Whitaker
New York's ramen scene has grown from a few noteworthy shops into a full-blown phenomenon, with a number of places turning out a diverse array of exemplary noodles. Whether you want a traditional interpretation or a genre-busting bowl of brothy (or maybe brothless) innovation, here are the restaurants that serve the best ramen in New York. Plus: a glossary of terms every ramen lover needs to know.

Chuko (Prospect Heights)
A trio of Morimoto alums are behind this beloved Brooklyn ramen spot. The vibe is a bit Momofuku Lite, and non-noodle dishes show plenty of polish. But ramen is the thing, and the vegetarian version — full of seasonal, vibrant produce — is the sleeper hit.

Ganso (Downtown Brooklyn)
Chicken and beef come from local farms, as do the braised seasonal greens adorning bowls of the short-rib and house ramen, a shoyu-broth-based variety decked out with kakuni (slow-cooked pork belly) and an egg.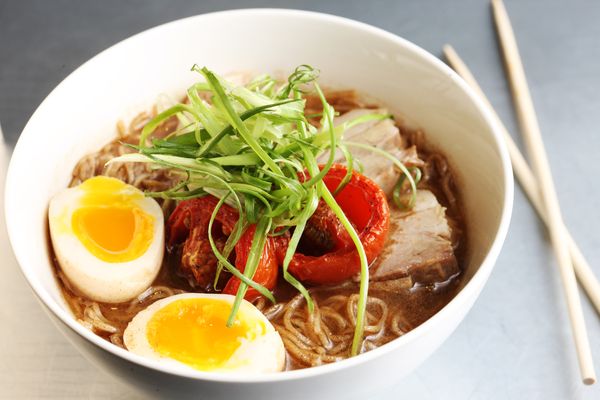 Hanjan (Flatiron)
At his stylish ode to Korean bar food, chef Hooni Kim begins offering "Korean Spicy Ramyun" after 9 p.m. Why the limited-time offering? Because it takes 12 hours for Kim's kitchen to make the broth — and it is absolutely worth it.
Hide-chan (Midtown East)
This second-floor hideaway might not have the most ecstasy-inducing bowl of tonkotsu in town, but everything here — including a signature soup made with rich, dark, garlicky broth — is satisfying, and you can generally walk right in and grab a seat. It's affordable, quick, and casual, just like a proper ramen-ya should be.

Ippudo (East Village, Hell's Kitchen)
With multiple outposts — the original NYC flagship on Fourth Avenue, a newer location in Hell's Kitchen, and Kuro-Obi stalls in City Kitchen and Gotham West — Ippudo is still among the leaders in high-end New York ramen. That means you can almost certainly expect a multi-hour wait when you arrive. When you do sit, you'll find that the ramen itself is consistently great, if not totally mind-blowing. Still, Ippudo is an institution for a reason.

Ivan Ramen and Ivan Ramen Slurp Shop (East Village, Hell's Kitchen)
Long Island's Ivan Orkin made a name for himself in Tokyo before coming back to NYC and setting up this bright, cheerful Clinton Street shop. His rye-based noodles are superlative and the selection here is both interesting and varied. Of special note are the excellent spicy ramen — made with a custom blend of chilies — and Orkin's signature triple-pork, triple-garlic mazemen, a broth-free fantasia that will leave even the most robust eaters feeling defeated in the best possible way. Or, if you can't make it to Orkin's downtown shop, the Slurp Shop stand in the Gotham West Market has a slightly smaller roster of offerings (and breakfast ramen), all of which will hit the spot.

Jin Ramen (Harlem, Upper West Side)
Cocooned by the metalwork of the 125th Street station, Jin Ramen, which claims the famous ramen-yas of Hakata as its chief influence and now has a sister location on the Upper West Side, feels like a Harlem hideaway. Their expansive menu covers the four principle styles of ramen — miso, shio, shoyu, and tonkotsu — plus kakuni, green coconut Thai curry, kimchee, and vegetable. All are cooked from scratch; the best are the miso and tonkotsu.

Momofuku Noodle Bar (East Village)
Any self-respecting noodle fiend has no doubt already made many trips to David Chang's First Avenue ramen mecca. Its renown doesn't make the food any less delicious.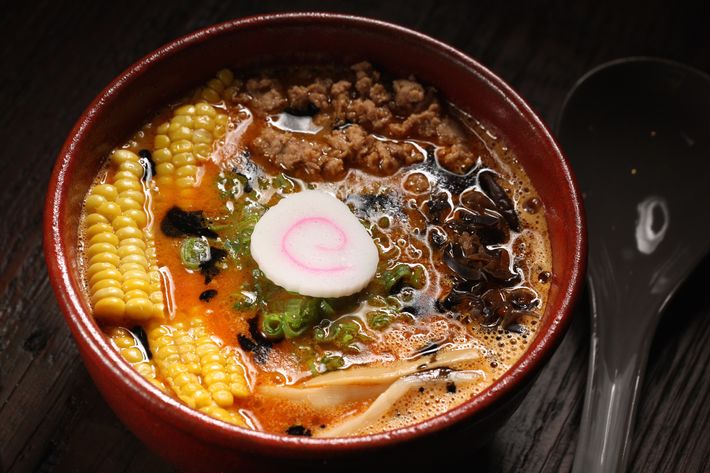 Mu Ramen (Long Island City)
Per Se alum Joshua Smookler and his wife, Heidy He, got such a strong reaction for the late-night ramen they served inside a Queens bagel shop that they managed to turn it into this insanely popular full-time brick-and-mortar. There are a bevy of interesting non-noodle dishes, too, but the ramen itself is as deserving of praise as you've heard.

Nakamura (Lower East Side)
Tokyo noodle expert Shigetoshi "Jack" Nakamura is behind this shop at the base of the Williamsburg Bridge. Nakamura keeps his menu tight, offering just five ramen varieties: a unique curry-spiced version; a torigara shoyo, based on a century-old recipe; a lighter bowl made with yuzu dashi; spicy spicy shaki with kanzuri chili paste; and a vegetarian XO miso ramen made with meat-free XO from David Chang, just one of the many big-name chefs who have praised Nakamura's skills.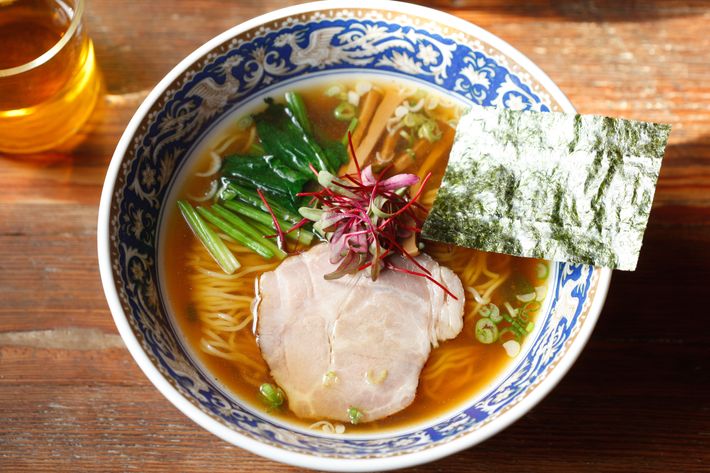 Rai Rai Ken (East Village)
One of the city's O.G. ramen destinations, in 2012 this noodle shop relocated from its original 14-stool home on 10th Street into a larger space on 12th Street. But it's still one that offers a truly authentic ramen-ya experience, right down to the surprisingly gentle prices.
Ramen Lab (Little Italy)
The hit ramen-ya from acclaimed noodle manufacturer Sun Noodle, whose noodles are used by the likes of Momofuku and Yuji Ramen, is now an incubator hosting noodle masters and hopefuls for month-long residencies.
Totto Ramen (Hell's Kitchen, Midtown East)
The waits are legendary, and the five authentic soupy choices are all excellent at the three locations of this Yakitori Totto offshoot. The various add-ons, in particular — such as eggs marinated in a sake-soy combination — are more than worth the added cost and heft.
Tsukushi (Midtown East)
With its subtle façade and discreet black door, you could almost mistake this Tudor City shop for a speakeasy. The specialty is home-style omakase cooking, but the excellent shoyu ramen (served with slices of roast pork) comes out after 10:30 p.m. each night.
Yuji Ramen (Williamsburg)
This nighttime-only endeavor inside Yuji Haraguchi's Okonomi serves inventive ramen takes like white shoyu ramen with clams and asparagus, or Wild Alaskan King Salmon and cheese mazemen.

FURTHER READING
• New Jersey Noodle Lab Sun Attempts to Corner the New York Ramen Market
• The History of the Ramen Noodle [NYer]
• The Food Lab: How to Make Tonkotsu Ramen Broth at Home [Serious Eats]
• Ramen in Japan, Ramen in America [Lucky Peach]
• The State of Ramen: David Chang [Lucky Peach]
GLOSSARY
• Mazemen: This ramen without broth is made instead with a small amount of thick, intensely flavored sauce, much like Italian pasta. Popularized here by Yuji Haraguchi of Yuji Ramenm, it's also a specialty of Tokyo import Ivan Ramen.
• Miso: This robust ramen has a broth seasoned with fermented soybean paste. Its heavier and rounded flavor makes it an ideal match for heartier add-ins like spicy shredded leeks, cha-su, and sometimes ground pork.
• Shio: Thought to be the oldest style of ramen, shio is defined by and flavored with a salt base, made with umami-rich ingredients like dried seafood, and typically yellowish, clear broth.
• Shoyu: Set apart by the use of Japanese-style soy sauce as its tare, this clear but dark broth is usually made from chicken but can also be meat-, vegetable-, and sometimes fish-based.
• Tonkotsu: Popularized in New York by the Japanese chain Ippudo, this ramen style is the only one not defined by its seasoning (tare), but rather its broth. It's pork-based, made of bones, fat, and sometimes meat boiled for hours until milky-white and creamy. One of the most popular variations is Hakata-style, where it's served with skinny, hard noodles.
• Tsukemen: The ramen and soup are served separately in this dish, which, like chilled soba, requires you to dip your noodles.
More Restaurant Suggestions From Grub Street
Where to Eat the Best Brunch in NYC
Where to Find the Best Tacos in NYC
Where to Eat the Best Late-Night Food in NYC
Where to Eat the Best Sushi in NYC
These Are the Best Date Restaurants in New York
The Best NYC Restaurants for Groups
Where To Drink the Best Coffee in NYC
These Are New York's Best Bars for Cocktails
Where to Eat the Best Steaks in NYC
This post is updated regularly.