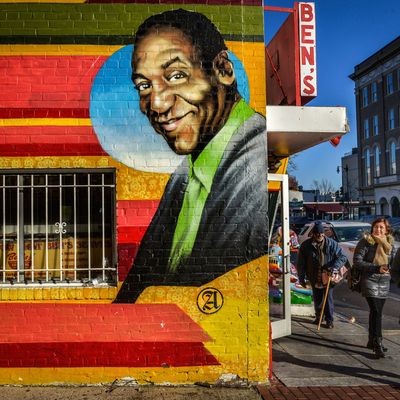 That's unfortunate.
Photo: Bill O'Leary/The Washington Post via Getty Images
Close ties to Bill Cosby are making for an awkward situation at an iconic D.C. eatery. Ben's Chili Bowl is a 50-year-old city staple that's grown into a regional chainlet and welcomed President Obama, Duke Ellington, and tons of other black leaders over the years, but there's no regular more famous than Cosby. As a result, not only is he enshrined in a ginormous outdoor mural, but his likeness also looms on the walls of new stores.
Obviously, the unofficial spokesman's ongoing problems have been plaguing Ben's for a while. According to the Washington Post, the restaurant remained proudly pro-Cosby even as more women came forward with allegations, while very quietly doing damage control (a famous sign declaring Cosby eats for free, for example, recently got "greasy" and "fell," and was rehung in a less conspicuous spot).
Cosby is a decades-long friend of the Alis, the family that owns Ben's, and really is the reason the place became nationally famous, so the option to stand by him or scrub his image has to feel lose-lose. The Post says the Ali family actually called an emergency powwow of sorts on Tuesday to talk about the comedian's fate, and they decided he'd still have "some" visibility going forward. So it doesn't look like the Cosby mural is going anywhere, but incidentally, the paper adds, a new Ben's just opened yesterday that appears to be Cosby-free.
[WaPo]