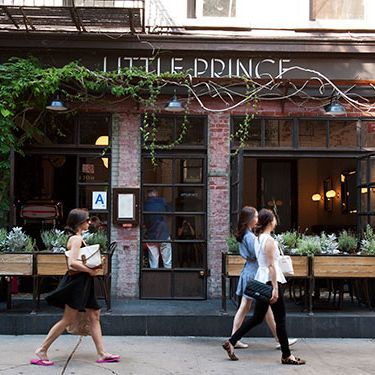 Little Prince is offering a $35 prix fixe menu.
Photo: Liz Clayman
If there's ever a time to remind New Yorkers of the glory of French food, it's Bastille Day. With France's Independence Day approaching this Tuesday, NYC restaurants are offering special dishes, prix fixe menus, and wine tastings — some lasting all week long. Il Buco Alimentari is making a special baguette, there are special picnic baskets for sale at Le District, and Amorino and Canelé by Céline both have special desserts planned. Here are some festive ways to eat a lot of cheese and celebrate the holiday:
Canelé by Céline
When: Until July 14
What: The popular French bakery is rolling out three special flavors to celebrate French Independence: assorted blueberry, raspberry, and vanilla-white-chocolate canelés.
Price: $20 for 15 canelés
Bastille Day on 60th Street
When: June 12, noon to 5 p.m.
What: As the cultural epicenter of Bastille Day in New York, this annual street fair will feature French wines, cheeses, delicacies, and cooking demonstrations. You can also enjoy arts and crafts, mime acts, film viewings, and a vintage Citroen car show.
Price: Free
Il Buco Alimentari
When: July 14
What: In an effort to create a bread to celebrate France's love for wine and cured meats, baker Kamel Saci has whipped up a special baguette that's fermented and baked with dried sausage and red wine.
Price: $5.50
Amorino
When: July 14
What: For Bastille Day only, this Italian gelato shop is offering two gelato-filled macarons for the price of one at both of its Chelsea and Greenwich Village locations.
Price: $2.50
La Siréne
When: July 13 to 19
What: Slip away for some Southern French cuisine in a low-key atmosphere. The affordable prix fixe wine and food pairing options include duck confit, escargots, and steak tartare.
Price: Prix fixe options at $17.89, $35.78, and $178
French Institute Alliance Française
When: July 12, 12:30 to 2 p.m., 3 to 4:30 p.m.
What: You can taste wine, Champagne, and chocolates with the experts at Le Skyroom.
Price: $65, tickets here
Cercle Rouge
When: Tuesday July 14, noon to 9 p.m.
What: This all-day Francophile bash will celebrate the holiday with a tournament of Pétanque, a traditional lawn game from Provence, along with live music, can-can dancers, and various street vendors. The restaurant will also offer a $29.50 prix fixe menu of Provençal dishes.
Price: à la carte
Achilles Heel
When: July 14, 7 p.m. to midnight
What: This Brooklyn spot will host a lamb roast with wine pairings, and it'll also set up a sidewalk game of petanque and crank up the French Electro music inside.
Price: à la carte
Bar Tabac
When: July 12, noon to 6 p.m.
What: There's also a Pétanque tournament at this Brooklyn bistro on Smith Street, as well as street foods, drinks, and entertainment. Live music will continue throughout the week, with a lineup headlining local musicians.
Price: à la carte
Madison Bistro
When: July 13-19
What: This rustic bistro has put together a three-course menu of classic favorites like French-onion soup, braised short-rib bourguignon, and crème brûlée.
Price: $35.78 for three courses
Mile End Deli
When: July 13 to 20
What: Stop by both the Noho and Boerum Hill locations for some seriously loaded fries at Mile End's second annual Poutine Week, celebrating the beloved French-Canadian dish. Throughout the week, it'll offer four special combos including the chicken-fried poutine, topped with cheese curds, braised collards, as well as a surprise poutine - Fat Jewish poutine, fries loaded with hot dogs, salami, smoked meat, bacon, curds and gravy. *
Price: $18 each
Le District
When: July 12, 11 a.m. to 6 p.m.
What: The French food market will sell picnic baskets loaded with goodies, like camembert cheese, saucisson, and a freshly baked baguette.
Price: à la carte
Little Prince
When: July 14
What: In addition to running a three-course menu of specialties like steak-frites and skate grenobloise, this Soho restaurant will offer carafes of refreshing rosé at happy-hour prices throughout the day.
What: $35 prix fixe menu, $19 carafes
Rouge et Blanc
When: July 14, 6:30 p.m.
What: Join sommelier and owner Tom Cregan for a France vs. West Coast wine-tasting experience that includes three blind flights and three small plate pairings — red snapper ceviche, slow-roasted carrots, and braised pork shoulder.
Price: $75, reservations by email
Bobo
When: July 13-19
What: Don't miss this prix fixe menu of homemade charcuterie, roast chicken with fingerling potatoes, an assortment of French cheeses, and wine pairing options.
Price: Prix fixe options start at $45
Claudette
When: July 13-19
What: Come here for the lunch and dinner prix fixe menus that include quiche Lorraine za'atar with smoked lamb bacon, and the option to add a glass of rosé for $10.
Price: $17.89
Marlow & Sons
When: July 13, 5 p.m. to midnight
What: A special Provençal aïoli dish, intended for sharing, makes this Williamsburg spot a great option for groups. Poached fish, boiled potatoes and eggs, radishes, and fresh vegetables are served on the side for dipping.
Price: $22
*Update: This post has been corrected to show that Mile End will be serving one surprise poutine all week, not a new one each day, and that this is in addition to four, not five, other special combos.