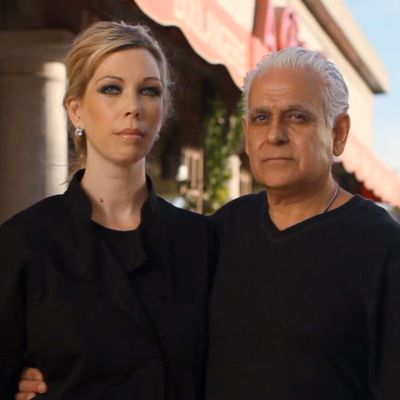 "That isn't who we are."
Photo: FOX
Even people who'd never seen a Kitchen Nightmares ended up hate-watching the episode where Gordon Ramsay melts down while trying to save Amy's Baking Company. That was back in 2013, but the duo, Amy and Samy Bouzaglo, have nonetheless kept Americans entertained in the years since by almost getting deported and even trying to stab people.
But all good things must come to an end, and the Phoenix Business Journal reports that the Bouzaglos are selling the hallowed Amy's grounds to some French buyers, in a deal that could go through as soon as next month and get them, at long last, out of the spotlight.
"That isn't who we are," Amy tells the Journal. "It was just a show." Staged or not, their infamy was just too much to shake, so the Bouzaglos will bid adieu to the bakery altogether. Don't expect an early retirement, though: The Journal reports that they want to launch a dessert-catering business that sells custom-made sweets and pastries to restaurants and businesses. It's basically exactly what they do now, just without a store to attract gawkers.
For anyone a little bummed at the thought of Amy disappearing forever from public view, though, take heart: She also plans to start an online cooking school.