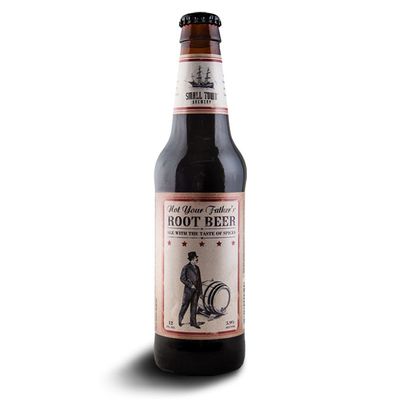 Sounds pretty sweet.
Photo: Courtesy of Small Town Brewery
Actually, Pabst may not need pre-Prohibition throwbacks after all to find an "artisanal, flavorful, differentiated" beer that wins back today's discerning drinkers. Cider is having its moment, sure, but the owners of the company are putting their money on hard root beer being the next big thing, rolling out six-packs (and, to a few lucky bargoers, kegs!) of a brew called Not Your Father's Root Beer that's becoming feverishly popular.
It was created by Small Town Brewery, but when demand outgrew the Chicago microbrewery's capacity, Pabst stepped in as distributor, then bought the beer outright. Now Not Your Father's is in 30 states. Technically more similar to an un-hopped beer style known as gruit, it's sweet and herby, with enough sassafras bark, wintergreen, anise, and vanilla to almost mask the alcohol.
And it sounds like just the kick the hard-root-beer trend needed: Not Your Father's has a pair of higher-octane root beers in the works now, coming in at a bracing 11 percent and a whopping 20 percent ABV. And if Pabst isn't your thing, other brewers nationwide are allegedly catching on, which really makes sense considering beer people have long produced some of the country's best root beers. There are hints that a boozy version is even in the cards for Sam Adams.