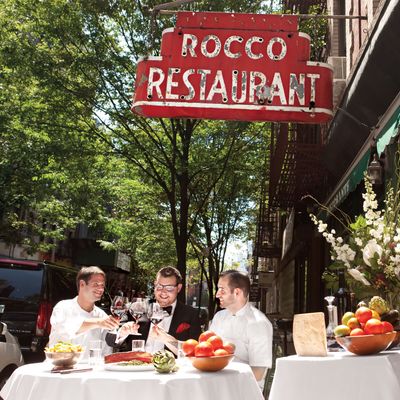 Mario Carbone, Jeff Zalaznick, and Rich Torrisi outside the space that became Carbone.
It's hard to believe that it was only five and a half years ago that co-chefs Mario Carbone and Rich Torrisi opened their first restaurant, a smart, justifiably acclaimed homage to the often maligned, very lowbrow Italian-American cuisine they grew up with. At the time, Torrisi Italian Specialties felt almost quaint. But today, the chefs, along with business partner Jeff Zalaznick announced they've signed a contract to take control of the storied Four Seasons space, perhaps the most dining iconic establishment in the entire country. The team's ascent has been a loud, fun, express-train spectacle full of turkey subs, coconut cocktails, lots of veal parm, and at least one ejected critic. Here's how Major Food Group rose from sub sellers to restaurant-world royalty in barely half-a-decade.
December 30, 2009: Boulud-empire alums Mario Carbone and Rich Torrisi open their first restaurant, Torrisi Italian Specialties, for coffee and counter-service lunch in a cramped, 18-seat space on Mulberry Street, with a strict devotion to American products and a menu limited to classic heroes, vegetable antipasti, and lasagne. At the time, the team planned to launch dinner service in February, 2010.
March 9, 2010: Not too far behind schedule, the co-chefs debut dinner service: a set menu that, at $45, was a bargain by tasting-menu standards. The plan was to change the menu every few days, and at its debut they were serving dishes like smoked-sable crostini with cod roe and everything-bagel spice and roasted chicken in devil's vinaigrette. With fewer than 20 seats, no reservations, and tons of early buzz, it didn't take long for the soon-to-be-notorious lines to get real long.
April 19, 2010: In a major coup for the first-time restaurateurs, Torrisi scores its first big-time review, a glowing five-star ringer from New York's Underground Gourmet. In the review, our critics wrote at the time of the cooking, "a tremendous bargain, and a serious delight. In the realm of red-sauce cooking, it's nothing short of revolutionary." Four days after the review, the chefs would initiate their first price hike (from $45 to $50.)
June-ish, 2010: New York native, Cornell School of Hotel Administration alum, and Torrisi fanatic Jeff Zalaznick joins forces with Carbone and Torrisi, fusing together to form Major Food Group, "about six months after they opened."
June 6, 2010: Times restaurant critic Sam Sifton issues a two-star review of Torrisi, lavishing praise on the "tiny and terrific" restaurant but deeming the waits "awful."
March 14, 2011: With hot-ticket Torrisi bursting at the seams from hungry, increasingly impatient diners, the Underground Gourmet drops the word that Carbone and Torrisi have signed a lease for the space next door to Torrisi Italian Specialties and planned to open a sandwich shop called Parm (in honor, of course, of the classic red-sauce dish) that Torrisi described as "a bigger, better, more efficient expansion upon the daytime incarnation of T.I.S."
March 21, 2011: Torrisi is one of three New York restaurants to snag a 2011 Best New Restaurant nomination from the James Beard Foundation. The award would eventually be given to Jean Georges and Dan Kluger's ABC Kitchen.
April 3, 2011: The Torrisi boys unveil their plans for Parm. Table service, classic cocktails, hot-plate-diner specials celebrating unfairly maligned dishes, an expanded lunch menu, and ice-cream cake are on the bill. The initial plan was to renovate Torrisi and offer a lunchtime prix fixe.
July 22, 2011: Before they even manage to open the first stand-alone Parm, Major Food Group takes the sandwich shop to the big leagues and opens its second — er, first? — location at Yankee Stadium, selling their obsessed-over turkey sandwiches. Zalzanick hints to Grub that bigger things were in the works — an early word of the red sauce to come.
November 7, 2011: Less than four months after signing the lease, Carbone and Torrisi open Parm on Mulberry Street with a menu of mozzarella sticks, American and Italian-American classics, and day-of-the-week specials like Sunday-night "Chinese" dinner; evening service begins on November 30. Torrisi's prix fixe, meanwhile, is hiked another $10 to $60, and plans are revealed for a much less affordable, 15-ish course $125 dinner-only menu.
January 24, 2012: After getting featured in New York's annual "Best Of" issue, Parm receives an enthusiastic two-star review from Times critic Pete Wells, who writes that the food is "completely faithful to your memories while being much, much better than you remembered."
August 19, 2012: Less than three years after opening their first restaurant, the empire builders announce their third concept, Carbone, in the 90-year-old Rocco space on Thompson Street. Modeled after the somewhat fancy, mid-century Italian-American restaurant (read: Rocco), promising obsessively researched service and food that takes from and references classic red-sauce spots from around the city. Another sandwich shop, called the Lobster Club and set to be located down the street from Carbone, is also promised.
November 29, 2012: Major Food Group reveals plans for a High Line Restaurant, which they tell the Underground Gourmet will have 100-seats and "serve their style of New York Italian-American food for breakfast, lunch, and dinner."
March 8, 2013: Carbone officially opens to the public, three years after dinner service debuted at Torrisi, with a familiar menu of heaping plates — with prices to match — of lobster fra diavolo, clam sauce pasta, and other red-sauce classics. It's notably more upscale than Torrisi, and not just in terms of price: Zac Posen designed the uniforms, go-to designer Glen Coben created a sophisticated and sometimes subtle cops-and-robbers theme, and art dealer Vito Schnabel curated the paintings on the wall. It's the group's most ambitious project and another sign that Major Food Group's days of quaint sandwich stands are probably numbered.
March 27, 2013: A duo of real-deal Italian grandmothers are not too impressed with Carbone's retro red-sauce vibes, though the table-side Caesar salad prep is quite nice.
April 10, 2013: In perhaps the first case of a major critic writing negatively about a Major Food Group spot, New York critic Adam Platt finds himself disappointed by Carbone's hit-or-miss entrees and through-the-roof prices, deeming it a regression for the young chefs: "Carbone and Torrisi made their considerable (and deserved) reputation by improving on the tired conventions of Italian-American cooking, not by aping them."
June 4, 2013: Disagreeing with Platt's critique, Pete Wells awards Carbone three stars; he would later the name the restaurant his second best of 2013.
June 17, 2013: Having abandoned their initial plans to open the Lobster Club, Major Food Group instead opens ZZ's Clam Bar down the street from Carbone, specializing in meticulously crafted (and, of course, expensive) crudo dishes with tropical cocktails from star-bartender Thomas Waugh.
September 10, 2013: News breaks that Parm is set to expand to Brookfield Place in Battery Park City. There are others in the works, too.
October 17, 2013: About two hours into his meal at "highly curated experience" ZZ's Clam Bar, Carbone dissenter Adam Platt is approached by a bouncer, who tells him, "you guys are done here." Platt notes that, in his years as a critic, he had never actually been confronted over a negative experience before this night, nor has he been asked to leave a restaurant prematurely. To this day, the Major Food partners have never spoken publicly about the incident.
February 24, 2014: It's discovered that Parm will open on the Upper West Side, marking no fewer than six planned or open locations for the booming chainlet.
August 14, 2014: In a major departure from their all-Italian-American ethos, the group says their still-unnamed High Line restaurant will serve healthy, coastal, hyphen-free Italian food with an emphasis on fish and vegetables and very little meat.
July 18, 2014: Major Food Group heads for international waters, announcing they'll open a branch of Carbone in Hong Kong in August.
September 2, 2014: Dirty French opens in the Ludlow Hotel on the Lower East Side, with bartender Thomas Waugh in tow, offering a free-wheeling take on French food that draws inspiration not just from Paris but New Orleans and North Africa, too.
September 8, 2014: The Underground Gourmet details the plans for Sadelle's, a bagels-and-more collaboration with former Per Se and Roberta's baker Melissa Weller, who left the latter to start a stand at Smorgasburg, East River Bread, in 2013 that mysteriously disappeared early in the summer.
December 3, 2014: Billed as the "Parm we always wanted to open," the Upper West Side location of the sandwich shop is not-so-surprisingly ambitious: There are 80 seats (266 percent more than the original), a full cocktail program from Waugh, a 100-bottle wine list, and a more expansive menu.
December 31, 2014: Major Food Group mercilessly pulls the plug on Torrisi Italian Specialties. In its place, they promise, will be a new fine-dining restaurant.
January 5, 2015: Restaurant in a glass box and future breakfast destination Santina opens ahead of the curve, serving a menu of Sicilian chickpea flatbread, turkey meatballs, and (eventually) a killer fish sandwich.
May 13, 2015: The group officially announces they'll open a Carbone outpost in Las Vegas's Aria hotel.
June 29, 2015: The latest location of Parm, in Brookfield Place's Hudson Eats, opens. They put Fudgie the Whale on blast and unveil an impressive, expanded roster of ice-cream cakes.
July 17, 2015: Barack Obama and his daughters hit the original Carbone for dinner, indicating yet again that the most powerful man in the world does not mess around when it comes to restaurants.
July 23, 2015: The Major Food Group partners meet with Aby Rosen at Lever House and sign a contract to open a new restaurant in the Seagram Building, taking over the space now housing the famed Four Seasons restaurant. The deal is announced today by the New York Times in a story that notes "a bastion of ritualized, old-guard dining in New York City is about to be taken over by three brash young men who were born decades after it opened." And with that, Major Food Group's plans for complete and total restaurant-world domination are revealed in full.