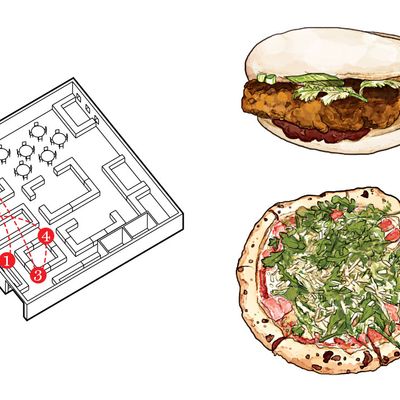 Gansevoort Market.
Photo: Map by Jason Lee; Illustration by Ellaphant in the Room
It's possible to find a noteworthy meal on the cheap at one of the city's new, high-end food courts — if you know where, exactly, to stop for each course. Here, we map six mall maneuvers for hacking your next lunch break.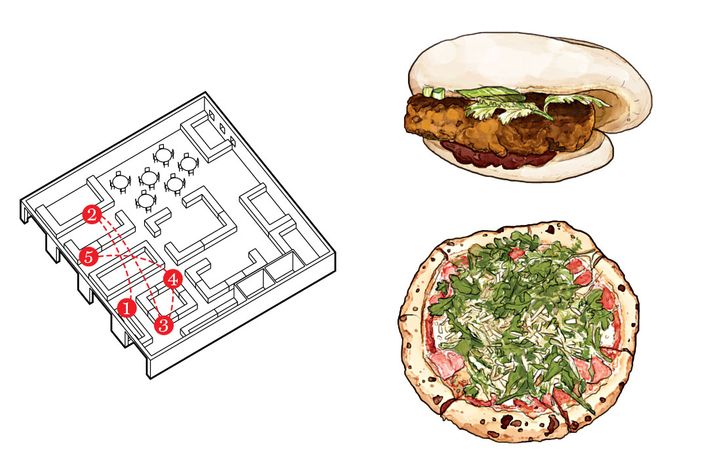 Gansevoort Market
52 Gansevoort St., nr. Greenwich St.; gansmarket.com
1. Appetizer: Bangkok Bar's Moo Palo pork-belly bun, with five-spice belly braised to a butterlike consistency, a tangy herbal sauce, and cilantro. $5
2. Entrée: Luzzo's arugula slice, with Parmigiano shavings, fresh tomato sauce, a long prosciutto slice, and enough greens to claim it's a salad. $6
3. Side: Donostia's Jody montadito, with anchovies and sea-salt butter. $3
4. Dessert: Yiaourti's fresh Greek-style goat yogurt with sour cherries. $6
5. Drink: Champion Coffee cold brew. $5
TOTAL: $25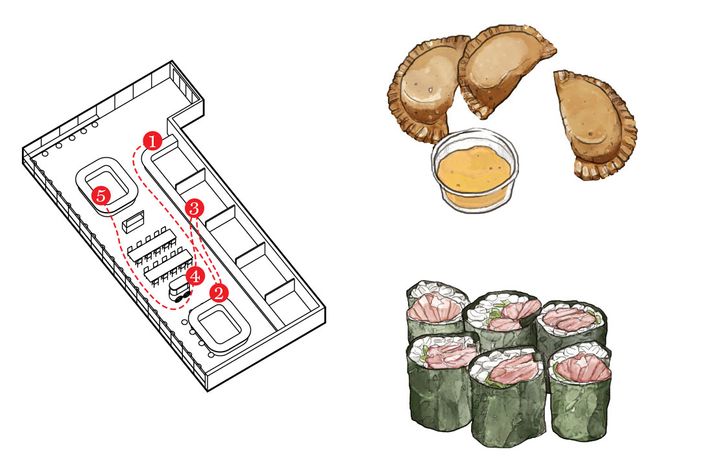 City Kitchen
700 Eighth Ave., at 44th St., second fl.; citykitchen.rownyc.com
1. Amuse-bouche: Gabriela's Taqueria's chicken empanadas, served two to a plate with spicy chile-mayo dipping sauce. $3.25
2. Appetizer: Azuki sushi's surprisingly fresh, clean yellowtail-and-scallion roll, which sells for the semi-bargain price of $6.
3. Main Course: The ingenious "Falafel Korean," which the cooks at Ilili Box construct with falafel, kimchee, and freshly warmed pita. $7.58
4. Side: Excellent fries from the Whitman's burger stand, served old-school style in a silver cellophane bag. $4
5. Dessert: The glazed lemon-poppy doughnut at Dough, which is so sugary and substantial that you may not have to eat again for at least the next 24 hours. $3
TOTAL: $23.83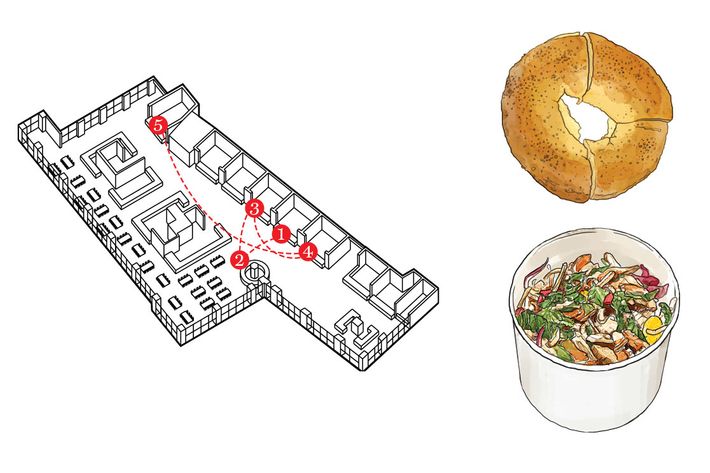 Hudson Eats at Brookfield Place
225 Liberty St., nr. West St.; brookfieldplaceny.com
1. Appetizer: Queue up with JPMorgan interns for a side of Mighty Quinn's burnt-end-spiked baked beans. Small, $3.10
2. Entrée: Arrive before 5 p.m. to try Black Seed's apple, ricotta, and honey sandwich on an everything bagel. $6.50
3. Side: Num Pang's acidic, spicy, three-cabbage Cambodian slaw provides a richness break. $3.50
4. Dessert: Yunnan Kitchen sister Northern Tiger's housemade soft serve (recent flavor of the week: peanut butter). $4
5. Drink: Olive's Lemonesso, a sparking lemonade with an invigorating shot of Stumptown Hair Bender espresso. $5
TOTAL: $22.10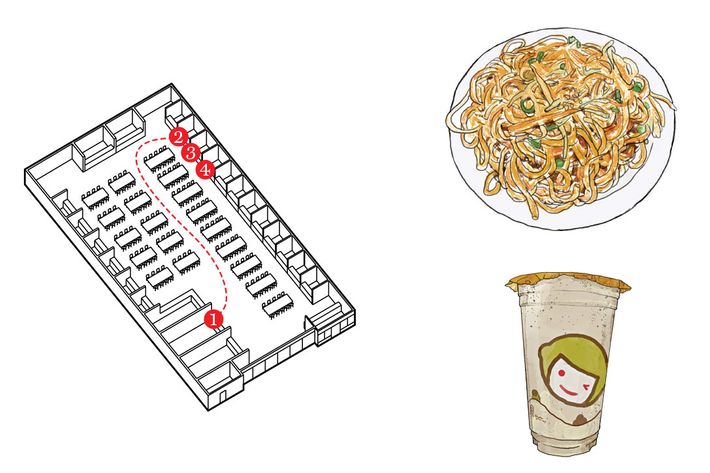 New York Food Court
133-35 Roosevelt Ave., nr. Prince St., Flushing
1. Appetizer: Few things are as refreshing on a hot summer day as the slippery, cooling bean noodles from Szechuan Taste. $3.75
2. Entrée: Peng Shun's gargantuan "full plate lamb" with chewy hand-pulled noodles, tender boiled potatoes, and delightfully gamy bone-on lamb in a slurry of thick, zingy sauce seasoned with Sichuanese chile-bean paste. $9
3. Side: Nibble Diverse Dim Sum's sliced-beef sandwich wrap, and maybe even dip that thin, crispy flatbread into your full plate lamb's sauce. $4
4. Dessert: The Oreo milk tea from Happy­­lemon blends the classic American cookie into earthy tea, worth it alone for the custardy finish. $3.50
TOTAL: $20.25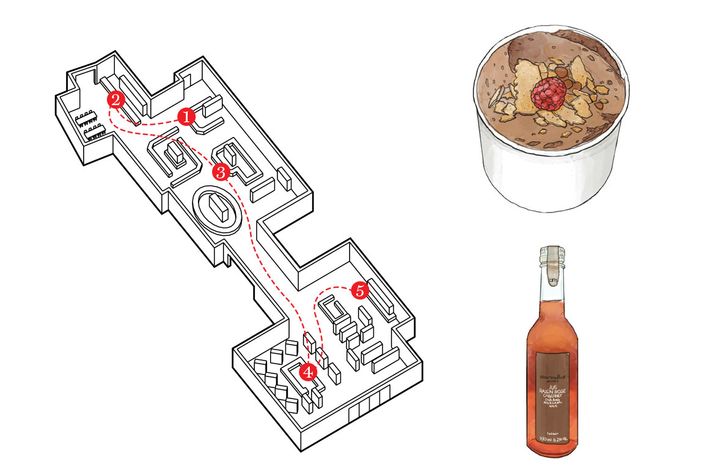 Le District at Brookfield Place
225 Liberty St., nr. West St.; ledistrict.com
1. Appetizer: The fromagerie's mini Brie-and-maple-syrup sandwiches on ficelle. $4
2. Entrée: The boulangerie's quiche of the day (recently asparagus and bacon). $6.50
3. Side: The charcuterie's olives (Picholines). Per 1/4 lb., $2
4. Dessert: The Garden District's salad bar becomes a generous-with-tasting-spoonfuls mousse bar at 4 p.m.; try two mousses, like Dulcey and 70 percent chocolate, and speculoos-crumb topping. Small, 1 topping, $4.75
5. Drink: The grocery sells Alain Milliat's raisin rosé Cabernet juice. $6
TOTAL: $23.25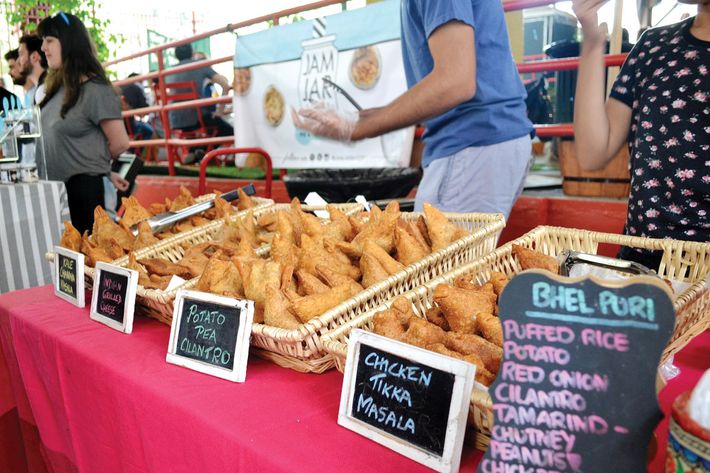 Bonus: An Outdoor Option
Every Sunday afternoon through Labor Day, a tiered platform beneath the Metro-North railroad viaduct in East Harlem transforms into Vendy Plaza, a collaboration between a street-vendor advocacy group and La Marqueta, the La Guardia-era enclosed market turned food-business incubator across the street. Vendors rotate often, so there's always something new to taste. But consider yourself lucky if your trip coincides with the presence of Angel Jimenez, whose crackly crusted, succulent roast pork (not to mention his machete-wielding antics) has made his truck, La Piraña Lechonera, a South Bronx landmark. And then there's Denisse Lina Chavez, the plucky Bronx bodega owner who recently closed her restaurant, Carnitas el Atoradero, but can be found below the train tracks griddling picaditas and offering samples of her signature dishes to all comers. Be on the lookout, too, for a Brazilian stand run by a vendor who operates halal chicken-and-rice carts during the week but is testing the waters for her native beef pankekas, saucy ground-meat-stuffed crêpes that taste like a cross between lasagna and cannelloni in the best possible way. Vendy Plaza isn't just a market; it's an informal focus group and culinary-career launchpad. For many of these hopefuls, it's East Harlem today, street-food-world domination tomorrow. Park Ave. at 115th St.; vendyawards.streetvendor.org/plaza
*This article appears in the July 13, 2015 issue of New York Magazine.