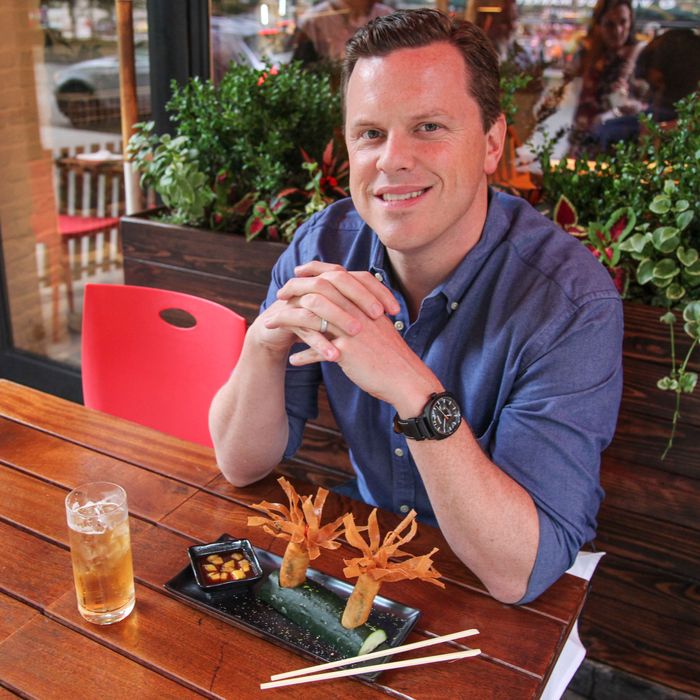 Geist, at the tried-and-true RedFarm.
Photo: Hannah Mattix
Brought to you byAmid all the recent turmoil in NBC's news division, anchor Willie Geist has stayed as busy as ever: Beyond waking up at 4 a.m. every morning to co-host the third hour of Today, he also co-hosts MSNBC's Morning Joe, writes for Today Food, and recently published a book, Good Talk Dad: The Birds and the Bees and Other Conversations We Forgot to Have. This week, his various gigs took him to Atlanta, where he sought out pulled pork, and to the Food Network's studios, where he judged a duel on Beat Bobby Flay. He also made time to head upstate and work on his pizza skills, navigated some impressive detours for his favorite fast food, and even snuck out for a date night at RedFarm.
Tuesday, June 16
The alarm goes off at 4 a.m. every weekday as I wake up for a doubleheader of morning television. The first thing to pass my lips usually is whatever water is remaining in the glass on the bedside table after I've knocked it over reaching for the snooze button on my phone. When I get to the studio at 30 Rock, it's the same damned meal every morning: a bowl of oatmeal with some brown sugar, a Starbucks venti skim chai (I don't drink coffee, if you can believe it), and eventually, some kind of a fruit smoothie from Jamba Juice. It's thanks only to this Grub Street assignment that I've realized how depressingly bland and monotonous my breakfast routine is.
After a couple of hours of politics and foreign policy with the Morning Joe crew, I dodge cabs running across 49th Street to host an hour of the Todayshow in Studio 1A. By 10:05, I'm back in my office and it's time for "lunch," carefully curated according to whatever falls out of my overflowing fridge. There's a delivery minimum at Fresh Direct, so I have to order much more than I can ever eat. It's an ongoing race against time to beat the expiration dates on all that yogurt. Over the next hour or so, I have a bag of baby carrots and some grilled chicken while I work.
At noon, I'm due across town to be a guest judge on the Food Network show Beat Bobby Flay. I assure you I don't typically eat my lunch in front of an applauding studio audience, and then render a verdict to the two chefs who prepared the meals. The food is crazy good, but you'll have wait for the show to see what it was. (Bobby would filet me with his affordable Kohl's knife set if I told you.) Our shoot lasts about five hours, so in between sampling gourmet food, I destroy some Skittles and Twizzlers in the green room.
I have to hustle from Bobby's show to Newark to catch a flight to Atlanta for a shoot tomorrow. I grab some of Hudson News's finest salted cashews and dash to the gate. The flight is delayed several hours, so I don't get to my hotel room in Atlanta until 12:30 a.m. I order room service chicken quesadillas, and they arrive 45 minutes later. After almost 24 hours and what looks here to be about 6 odd meals, the day ends mercifully.
Wednesday, June 17
I wake up still full from those quesadillas, so I don't eat until almost noon. I lived in Atlanta for about six years and went to college in the South, so I crave BBQ whenever I'm back down there. I yell at Siri to lead me to the closest pulled pork as I head out for my interview. Her disembodied voice sends me to Moe's Original BBQ, right there in midtown. I get the pulled-pork sandwich to go, with sides of baked beans and potato salad. Naturally, I get a sweet tea (only a Yankee orders unsweetened tea in the South).
I arrive on the set of the movie Keeping Up With the Joneses, where I interview Jon Hamm, Zach Galifianakis, Isla Fisher, and Gal Gadot in Atlanta's blast-furnace June heat (which turns to "7th Ring of Hell heat" in July and "Just take me now, Lord" heat in August). I eat my delicious BBQ in the air-conditioned crew trailer before joining the cast. Afterward, Zach and I feed each other cold Concord grapes like always, and then it's another race back to the airport, headed for home.
The only thing that really matters to me when I'm flying out of Atlanta is that my plane departs from one of the terminals that has a Chick fil-A. This time, I'm not in such a terminal (the person who made this egregious mistake has been relieved of his position, obviously). I determine that I have enough time to leave my gate, go back downstairs to the train that runs through the massive airport, and travel to Terminal A, where there's a Chick Fil-A. It's a full O.J.-in-the-Hertz-commercials sprint and weave through the airport to get the goods and make it back for my flight. Heroically, I pull it off and eat my dinner of chicken and waffle fries on the plane.
Thursday, June 18
After a day on the road, it's back to the morning routine: oatmeal, chai, and Jamba Juice for this guy. I really need to mix in a Lumberjack breakfast once in a while.
At 11 a.m., the Fresh Direct clearance continues. Yogurt, grilled chicken that's dried out considerably over the last couple of days, and more of those carrots.
Like many New York apartments, ours has a kitchen half the size of a prison cell at Riker's. We don't cook in there much. It's kind of just the place where the milk and the peanut butter live. So when I stop at home around 3 p.m., I'm thrilled to see that my unfinished bag of Hudson News cashews from Tuesday is sitting on the counter. I empty it in short order.
We go out a few times a week, sometimes with our kids, sometimes without. Given my early wake-up, we tend toward the early-bird specials, which is great actually. You know that thing where the nice restaurant only has a table for you at 5 p.m. or midnight? They're always stunned to hear us say, "We'll take the 5 p.m.!"
At 6:30 on this night, my wife, Christina, and I are at RedFarm on Broadway at 77th Street. It's not far from our place and it's consistently excellent. The spring rolls are great, the little appetizer filet mignon tarts are nuts, and I always love their three-chile chicken. Pour some bourbon on top of all that, and it's a weeknight party on the Upper West Side.
Friday, June 19
I won't waste your time with breakfast and "lunch." You get the idea now: protein-and-nutrition-free breakfast, and hurry-up-eat-through-the-aging-Fresh-Direct-order lunch.
We scoop up the kids at their day camp around 3 p.m. and head to a little spot we bought about an hour outside the city. They're allowed to eat McDonald's once or twice a year, and it turns out today is to be one of those visits. With hungry children in the backseat and the smell of crisp, salty French fries wafting through the Harlem air, we bust a left on 125th Street and drive through Mickey D's. Since I'm a disciplined eater, and a role model to my kids, and my body is my temple, I have only an à la carte Big Mac and not the world's greatest fries.
Perhaps the coolest thing about this house we bought upstate is that the previous owner was a big cook. He left us with a beautiful kitchen and an outdoor pizza oven. Before we moved in, my pizza-making had consisted of drunkenly throwing a Stouffer's French bread slice into the microwave at 3 a.m. in my 20s. Now, I'm trying to pull off the homemade version. Not succeeding yet, but trying.
Tonight, the kids and I make a pancetta-and-mushroom pie. The kids like spreading the sauce and sprinkling the cheese. It takes an hour or so to get that wood-fired oven hot enough to cook the pizza, so it's a process. On this night, I make a nearly fatal mistake. I forget to put cornmeal on the pizza peel, which allows the pizza to slide smoothly off the long-handled peel and into the oven. That means that after all of our work, the pizza gets stuck on the peel and folds in half as I dump it into the oven. Disaster strikes with just a flick of the wrist. Sometimes after a long week and a general lack of sleep, that kind of a setback will frustrate a fella. It may even cause him to javelin-launch the peel into the yard. I'm not saying that happened here tonight. I'm just saying it's something that could happen.
I did manage to slide in quickly and rescue the pizza, which by now had taken on the shape of one of Salvador Dali's melting clocks. It was an abstract pizza. Like any wise chef (who doesn't have full confidence in his skills), I had bought and prepared two big bone-in rib eyes, just in case. The kids politely ate the pizza and told me it was great even though it wasn't. We broke the emergency glass on the steaks and had a great meal, after which I collected that peel from the yard.
Saturday, June 20
Up early on a Saturday morning because my body clock leaves me no choice. Quick bowl of Honey Nut Cheerios and a vanilla latte in the ole Keurig machine. I know I said I don't drink coffee, but the sweet, foamy drink I have only on weekend mornings barely qualifies as coffee. I throw on Sirius/XM's BackSpin channel in the kitchen, and Big Daddy Kane and I wake up together.
Later in the morning, my wife pulls together her "eggy mash," which is scrambled eggs mixed with bits of crispy bacon from the famous Loveless Café outside Nashville, where we went to college together. It really is a perfect breakfast food.
I'm working today, filling in as host of the Nightly News, so after some wiffle ball in the yard with the kids, it's back to the city. As news from Charleston and the manhunt in upstate New York rolls in, the day gets hectic and there's no time for an actual "meal of food" (h/t Frank the Tank). I manage to grab a Snapple and some yogurt and carrots from my office before we go live on the air at 6:30 p.m.
While I'm at work, Christina and the kids have gone to see Inside Out, followed by an Italian dinner out. Once Nightly is put to bed and updated across the country, I hustle back home. When I arrive at about 10 p.m., there's a nice takeout chicken-parm meal waiting for me. Christina is in bed already watching a movie, so I join her with my dinner. There now are lovely accents of marinara sauce on our comforter.
Sunday, June 21
Father's Day. I'm already up reading in the kitchen when my kids race in to make me breakfast. It's a joy to watch. My newly 8-year-old daughter makes a big fruit salad by cutting up with a dull knife (pre-cut) strawberries, pineapple, and cantaloupe. She also makes a batch of what we call "Parker toast," named for one of our oldest friends Parker, who founded Nashville Kitchen & Cannery, makers of the finest jams in the South. When NKC jam goes on a piece of bread, it becomes "Parker toast."
It's pouring rain, so we head over to the mall to buy, you guessed it, a new pizza peel at Williams Sonoma. When it comes time for lunch, we feel the unmistakable "Chick Fil-A thrill" upon seeing its logo on the map of the food court. Could I be so lucky to find it twice in a single week? We are quickly humbled and dejected when we are reminded, once again, that Chick Fil-A is closed on Sundays. Damn.
We stop on the way home for a late lunch at one of our favorite local spots, the Little Pub in Ridgefield, Connecticut. My 5-year-old son asks the waitress, "I'm not sure if you're gonna have this, but may I please have a cheeseburger with French fries and ketchup?" Turns out the Little Pub carries that delicacy. George's lucky day. Christina and I have a Fishers Island Lemonade (vodka, whiskey, and some kind of juice product) with our delicious meals. Life is good.