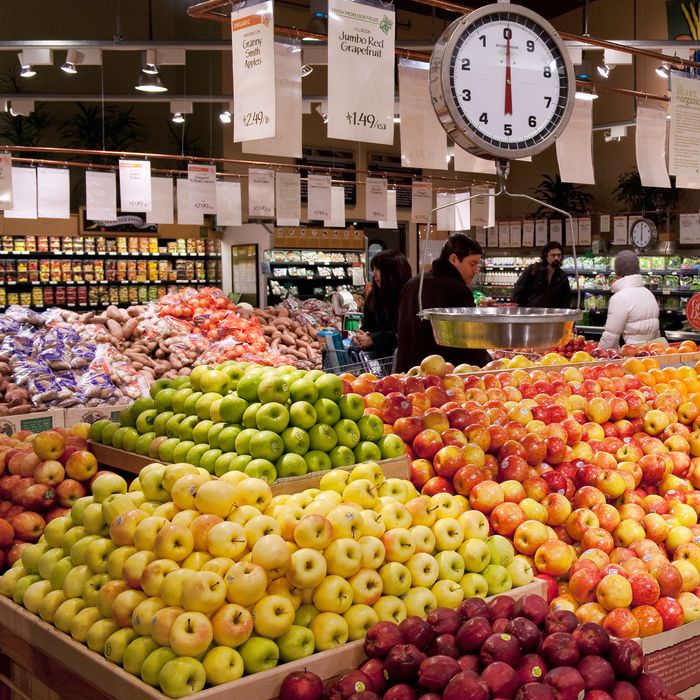 You might want to bring your own scale next time you shop.
Photo: John Greim/LightRocket via Getty Images
Yes, the groceries at Whole Foods are expensive, and now it turns out they might be too expensive in a very real sense. New York City officials have launched an investigation of the grocery chain because, they say, the city's Whole Foods stores "routinely" overcharge for products. The Department of Consumer Affairs alleges the overcharging happens because of inaccurate weights marked on prepacked groceries and claims the practice dates back to at least 2010. Per a report in the Daily News, the most recent violations were discovered during "a sting operation" conducted last fall: "Inspectors weighed 80 different types of items at Whole Foods' eight locations in the city that were open at the time. They found every label was inaccurate, with many overcharging consumers."
The operation investigated over 100 different grocery stores around New York and found problems at more than 70 percent of them, but the city claims Whole Foods "was the most egregious offender." One inspector reportedly called it "the worst case of overcharges that they've ever seen."
A rep for Whole Foods, of course, denies the entire thing and says the chain will defend itself against the allegations. Last summer, Whole Foods agreed to pay $800,000 in penalties after a separate, year-long investigation discovered the company's stores were overcharging customers in California.
[NYDN]