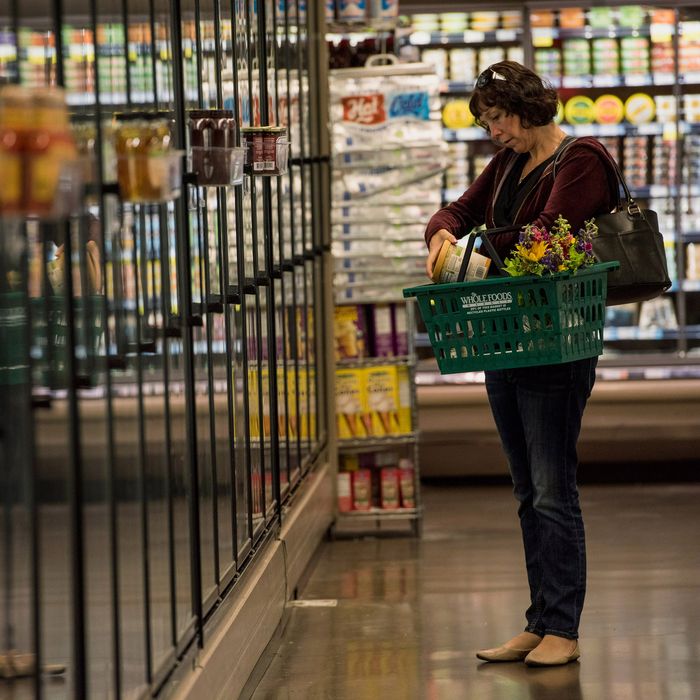 This is why you always double-check your receipts.
Photo: David Paul Morris/Getty Images
Well, that didn't take long. Just one day after New York City officials announced that Whole Foods is under investigation for overcharging customers, a Bronx man has filed the first lawsuit related to the allegations against the pricey grocer. The plaintiff, Joseph Bassolino, has brought his case to the State Supreme Court, citing the Department of Consumer Affairs report and saying he's bought mis-priced packages of food several times over the last three years. According to his complaint, Bassolino hopes to go class-action with the lawsuit.
Bassolino's lawsuit is the very first, but it's possible that it won't be the last. Customers have long complained, rightfully or wrongfully, about inflated prices at the grocery, nicknaming it "Whole Paycheck." As Business Insider points out, droves of customers have taken to lashing out on Whole Foods' Facebook page, accusing the company of "stealing from customers," calling them "worse than most of the criminals in jail," and saying they're done shopping there. It's a similar scene on Twitter, where disgruntled customers are feigning surprise and viewing the lawsuit as affirmation of their gripes.
While Whole Foods calls the investigation, per its Facebook, "far reaching" and chief litigation council John Hempfling told Fox News that this is just "a bit of coercion." After all, this isn't the first time Whole Foods has been investigated for price-gouging. You'll recall a separate, yearlong investigation in California found that the chain was overcharging customers in that state.
This arguably couldn't come at a worse time for the company, though, which has just recently stepped into hot water with organic farmers over its new "Responsibly Grown" labeling system. According to some farmers, the new system is just a way for Whole Foods to dupe consumers into thinking conventionally farmed produce is just on par with or superior to the organically grown stuff. All of this, too, as the chain is working toward a new chain of value-minded stores that will offer "values-oriented experience[s] geared toward millennial shoppers." One assumes it'll now calibrate its scales a little more carefully at the low-cost stores, too.