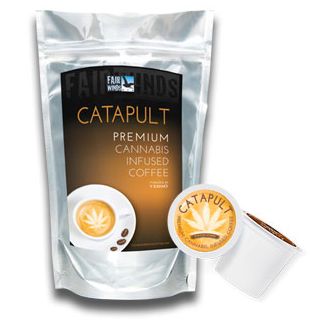 Wake, push a button, and bake.
First came pot oil in pour-over coffee, then a Bulletproof-style concoction, and now, thanks to the miracle of Keurig and a company called Fairwinds Manufacturing, there are weed-infused pods that crank out cannabis coffee with a mere push of a button.
The so-called Catapult pods aren't available outside of Washington yet, but Forbes says that they're already in about 30 stores statewide. They run $10 apiece, use beans from local Seattle roasters, and pack about 10 milligrams of THC — which is becoming the industry norm for edibles. Legally speaking, it's not an easy product to pull off, but founder James Hull is optimistic about more states easing marijuana laws.
In one brilliant bit of strategy, though, Hull is using the sativa strain in caffeinated pods, but has a decaf in the works that uses indica, the one with more of a relaxing buzz. He calls it a "coffee you can drink before bed to help you sleep."
[Forbes]