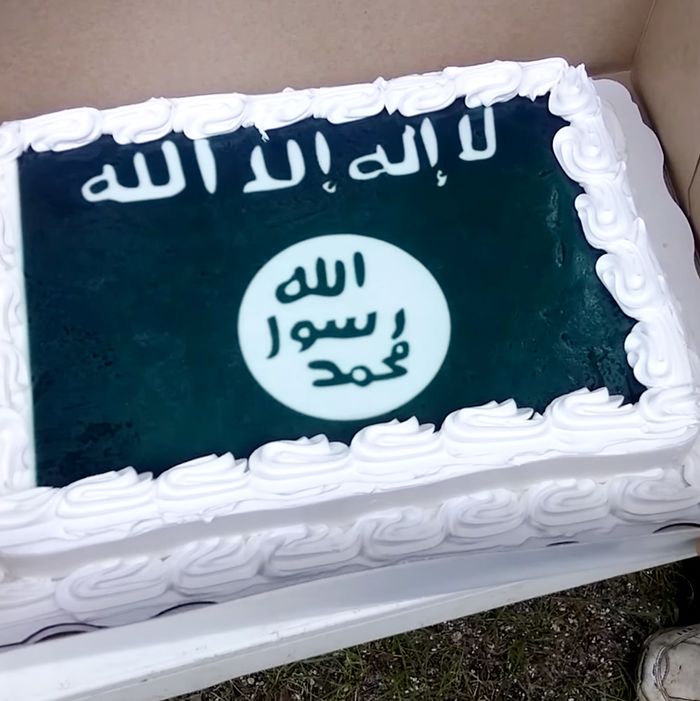 Pretty good cake artistry, though!
When Walmart told Chuck Netzhammer that he couldn't order a Confederate-flag cake because the company has put the kibosh on any merchandise with that image, the outraged Louisianan made a trick request for a cake with a different flag — the one belonging to ISIS. He says Walmart "cheerfully" made that, much to his alarm:
"That's an ISIS battle flag cake that anybody can go buy at Walmart," he helpfully narrates. "But you can't buy a Confederate-flag toy with like, say, the Dukes of Hazzard car." The Confederate flag is his heritage, he argues, but ISIS "happens to be somebody who we're fighting against right now who are killing our men and boys overseas and are beheading Christians." In the video he posted to YouTube, Netzhammer then asks the obvious question: "Does Walmart support ISIS?"
A rep for the company told ABC News that the employee at Netzhammer's store didn't know the flag was a terrorist group's and simply made a mistake, adding: "The cake should not have been made and we apologize." And perhaps the Walmart worker deserves a break — after all, apparently not even CNN knows what the ISIS flag looks like.
[ABC]